I have a 1953 Commander with the original fuel pump. I have installed an electric fuel pump to help cure vapor lock problems. The orginal pump does most of the work most of the time.
During the last two outings the cork gasket at the top of the sediment bowl has lost it's seal. The first time I left the electric fuel pump on to long and I thought the pressure blew the seal. Today I took the car for a short run and turned the fuel pump on only a couple of times and for very short bursts.
Is that glass bowl screw suppose to be hand tighten only? I cut a new cork gasket two weeks ago and installed. It seemed to be working until I drove it today. Do I need to replace the cork with some other material? Thicker cork?
Any suggestions would be appreciated.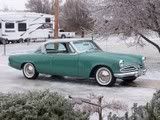 Gary Sanders
Nixa, MO
President Toy Studebaker Collectors Club. Have an interest in Toy Studebakers? Contact me for details.