I really don't know where to start. My R2 is running rich. The spark plugs have black soot on them. I am using (going through) plenty of gas and smells of gas with black smoke when I tromp on it. I am not putting around the neighborhood (it's an R2 and my foot is heavy) and I am using some major highways.
Is this a ignition coil issue (weak spark), Metering Rod issue, or spark plug issue (too cool plug).
Here is what I know:
Carburetor has been professionally rebuilt to original specs.(last week)
Automatic Choke is set wide open for summer
Spark plugs are new (less than 800 miles)currently I am using AC DELCO 43S equivalent to Champion J10y
Original Coil
R2 distributor Dual Points were set with the distributor on the bench
New ignition wires purchased from JDP.
Where should I start?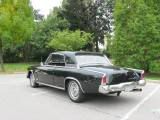 1964 GT Hawk R2 Clone
Oakville, Ontario.
Hamilton Chapter
See you at Niagara 2008 Crossroads Zone Meet July 18-20