I've not driven my '53 much the past few years. I think last summer only a few times. It was acting up and I found the first (I have 2) fuel filter before the #1 fuel pump by the tank was clogged with some old silicone sealant globs yet again after several years. I made the mistake of using red silicone on the fuel sender gasket/screws back when I built the car. This was not the first time I had problems with a clogged filter.
Anyway, the only filter I had around was a clear plastic one so I put it in. I usually prefer the metal cased ones under the car for fears of road debris hitting it. Fixed the immediate problem.
Fast forward to this spring. A couple weeks ago I tried to start the car and it would only fire and stall, rinse and repeat.
Suspecting a fuel problem again, yesterday I crawled under the car and found the nearly new fuel filter from last summer full of rusty crud:
This did not bode well. If there was rust in the filter, what about the #1 fuel pump? This car has a 80s ford EFI V6 in it. Two fuel pumps, one at the tank; and another on the frame rail. I got the #1 pump out and tested it with a battery and fortunately it seems to be OK (not stuck). I do have a spare though.
So, today I dropped out the tank. A couple years ago the gauge sender quit working as well so this was a good reason to check into that too.
As feared, there is some rust damage and crud in the tank. Its not totally rusty so I guess there is something to be thankful for. This tank was one of the last NOS lark wagon tanks that SASCO had back about 2001 or so. I am going to swish it out with some acetone and maybe toss in some loose bolts to churn off any rust bits.
As for the fuel sender, I am not sure I can save it....
The immediate problem is the shaft is stuck.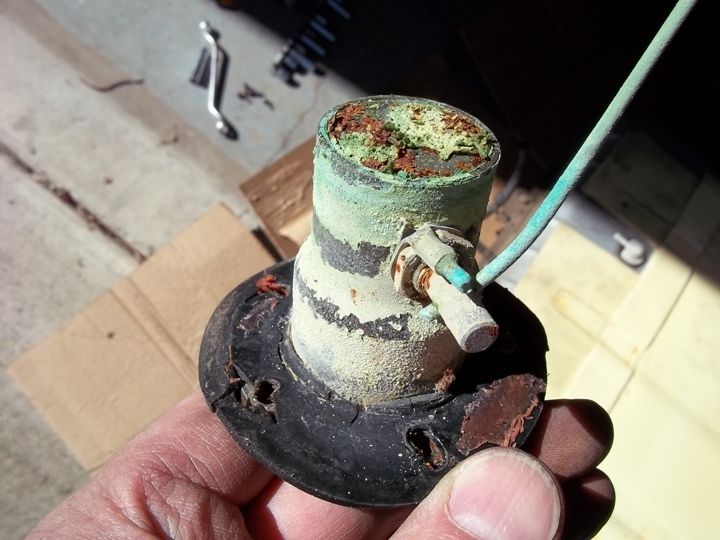 After soaking in penetrating oil, I was able to get it to move but its too sticky for the float to possibly move it in normal conditions. The resistance seems to be OK, just the shaft is rusty/sticking. This sender cost me about $98 from packard farms back in the day, grrr. The gasket is also shot with cracks in it.
I am going to blame E-10 gas for this mess..... Seems from all the green stuff, that the plating and copper on the sender was being eaten by acids in the fuel. There are green deposit on the tank bottom under the sender as seen though the port hole too.
Probably be a couple weeks before I get this back together as next weekend I am out of town for Mother's day.