The last time we saw our Hero, he was partially naked with the rocker panels removed to facilitate hog trough replacement.
The weather here in Michigan has been in the 70's the last few days (who needs Florida?) and forecast to remain that way for a few more days. So let's take a look at how I reinstalled the rocker panels I cut off earlier.
Initially, I made bonding strips from many layers of Resin impregnated glass cloth that were cut to size and riveted to the hog troughs as original. Other pieces of the same strips were glued to the body with West Systems Six10 two part adhesive and screws were installed to hold the body and bonding strips together. After the strips were bonded, the same adhesive was used to install the rockers and again screws were used to hold the whole assembly in place. Anywhere the bonding adhesive was to be used the fiberglass body area was ground to pure glass prior to installation.
After the entire assembly had time to cure, all the screws were removed and the area around the bonded area was ground down and fiberglass tape bonded over the area.
The area was sanded to knock off any high points and will be coated with Morton Eliminator when the rest of the body is ready for respraying.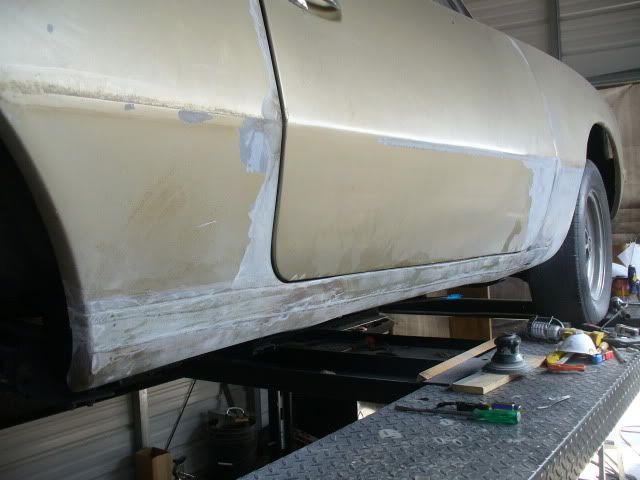 And now back to scraping the body down with razor blades. Bah Humbug on that!!!
Bob