I recieved a new rotor today for my '56 V8 259. I installed it and have spark to the cap. I can't get spark in the plugs. I loosened the distributor bolt and, with the rotor at TDC, I moved it back and forth to see if the #1 wire would show voltage. None. I also tried it whilst turning over the engine first, nothing there.
Does anyone have a picture of one of each? If I did have the wrong one, would it fit in so well and not work[?][?][?][?]
Yes, it's getting fuel, air etc,etc, etc... JUST NO @*+!!*** SPARK!!!
Could it be the new Rotor? Is it possible I was sent the wrong one? The '56 Hawk has a different number than the '56 V8. What would be the difference? I mean, it fits right on and
seems
right. But no spark gets to the plug.
Another thing. I know the resistance block should get rather warm, but should the wiper motor? Whilst I was going through my check list I brushed against it several times. After a while, with the motor off and the key on, the wiper motor got hot to the touch. I turned on the wipers and they worked fine. but the motor is hot. Is this normal?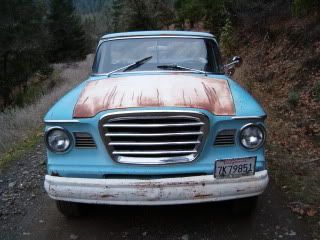 Home of the famous Mr. Ed!
Lotsa Larks!
K.I.S.S. Keep It Simple Studebaker!
Ron Smith
Where the heck is Lewiston, CA?