Did yawl catch it last week when I stuck a size-twelve Red Wing in my mouth? Yeah, I tried to blame it all on Evelynn Wood, but now I'm back to face the music in a blatant attempt at self-redemption.
The subject was belts, and how best to measure for fresh ones. Granted, it isn't usually necessary to achieve deadly accuracy when measuring for belts, but sometimes things get a little tight in early engine compartments. Some of us like to stuff that proverbial ten pounds of poo in a five-pound bag. Yawl know who you are.
Now before I dig in deeper; I
should
go on and say that I've been playin' with Studes (and some other brands) long enough to know better, but for whatever reason; I didn't know how to properly measure for belts until recently. The last time I tried, (about three months ago) I fashioned a mock-belt from wire and took it to the parts guy. Well,
that
didn't work, so I went back the next day, and the next day, and the next day, until I finally just lucked out. Now
some
of yawl are laughin' at me, and that's arright. I have a good friend who is what I'd call a "real mechanic" and he laughed a little too --
then
he shared
his
measuring method with me.
"Keep some old belts around. You can always use one that's too long, just cut to fit -- there's your sample."
Now as Tom pointed out here last week; someone's got to hold the sample-belt together while someone else sneeks up and measures it. That's about the only drawback to the 'cut to fit' method -- it takes four hands.
I like to splatter paint around every now and then, so I've got the high-quality green maskin' tape from 3M on the shelf at all times. It'll adhere fairly well to a belt if wrapped tight enough, but Tom also pointed out that slippage might be difficult to see beneath tape. Then he suggested staples as I recall, this sounded good so today I thought I'd give
his
method a try.
"Where's the T-50s? I know they're on this shelf somewhere... Maybe if I get some other stuff out of the way... Let's see... Move all these zip-ties... Now move all this shrink-tube and... Doh! SHRINK-TUBE!"
The 'hot tip' was right in front of my nose.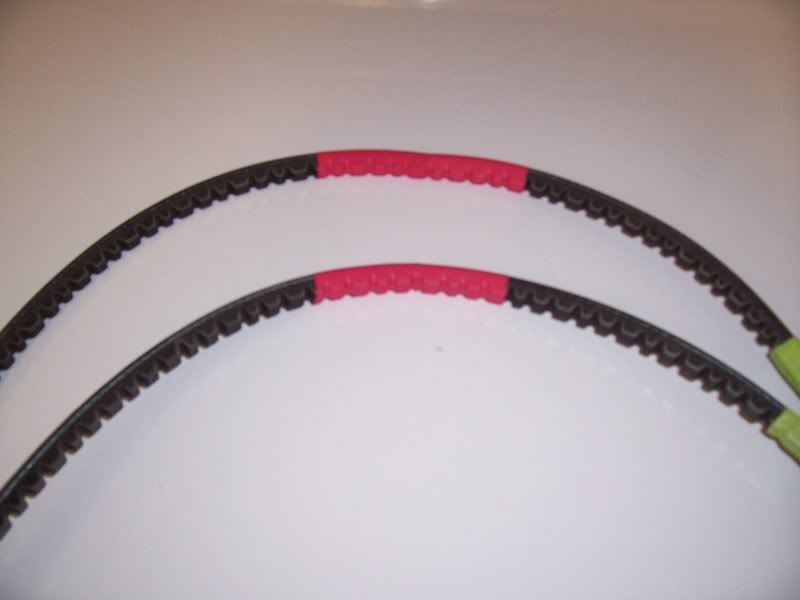 This works like a Studebaker Champ! Slip it in, hold it toghther, (single-handedly) while using your remaing free-hand to pull the trigger on the heat-gun. This works exceptionally well with the late-model knobby-tread belts. Ours did
not
slip. Oh,
now
you're thinkin' this won't work on smooth belts, right? Carve some grooves in the ends -- now you have the knobby-tread design workin' for you too.
This simple accedental discovery made my day go a little easier. Hopefully, it'll help someone else down the road.
Now where's that 'spell-czech' button? There's gotta be one around here somewhere... RR
Faster than a rusting bullet... Gopher Grove, CA