When I purchased the 83 it had the optional leather interior and was a beautiful deep red color. It had a lot of issues but no tears.
The bigger problems were wear, sun fading, cracks, rough areas, previous poor redying attempts and areas almost as stiff as cardboard.
What happened as the SBC ran better and better the interior looked tackier and tackier. Even though you can outrun 'em they can still see the interior at the shows.
I tried to find a dye that would work but found it impossible to match the color and also repair the interior.
That was until I found a company called Leatherique on the internet. They are close to Aiken, S.C. I sent them a swatch cut from under the dash and received a call a couple of days later from a very pleasant lady that asked me the source of the swatch. She said that was a very thick and high quality leather an they could match it if I liked.
To shorten the story, I ordered, one quart of dye, one quart of cleaner and one pint of rejuvenater. Total cost about $150 including shipping. A bargain as you will see shortly.
I used the rejuvenater on the interior twice a day for three days. Even the stiff portions softened quite a bit.
Now came the scary part. They recommend wet sanding the worn parts with 320 grit and the cleaner. I don't know about you, but the thought of sanding the leather was scary. Well! bite the bullet bunky, it's got to be done.
I chose to start with the door panel as the upper sill portion was one of the worse spots. I started with 800 grit but accomplished little and then went to 400 which seemed to do well.
After the cleaning and sanding I tried several techniques to apply the dye. Spraying with every gun I had from air brush to touchup to full gun did not do a very good job. The air brush was the closest but still not good.
The application technique that worked the best was a dye saturated 6"X6" piece of terry cloth used in a circular motion followed by a second wiping in a circular motion using a water dampened Bounty brand paper towel dipped lightly in the dye.
The other scary part was the initial color of the dye. It looked crimson when applied but dried to a deep blood red just the color of the original leather.
Here are a before and after shot of the upper door panel. The color is way off due to the flash but it is a gorgeous deep blood red on the car.
Before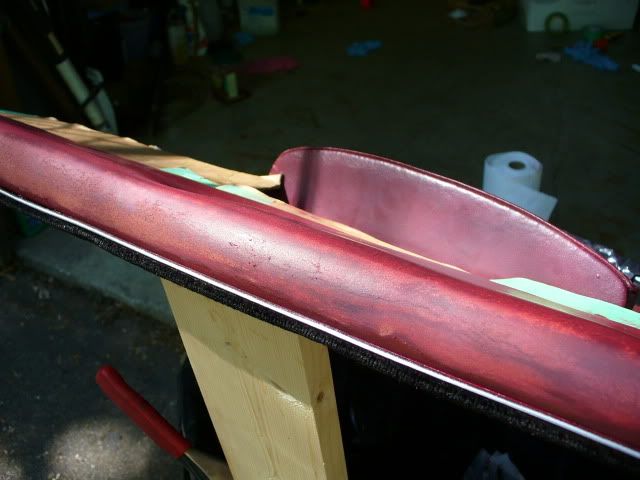 After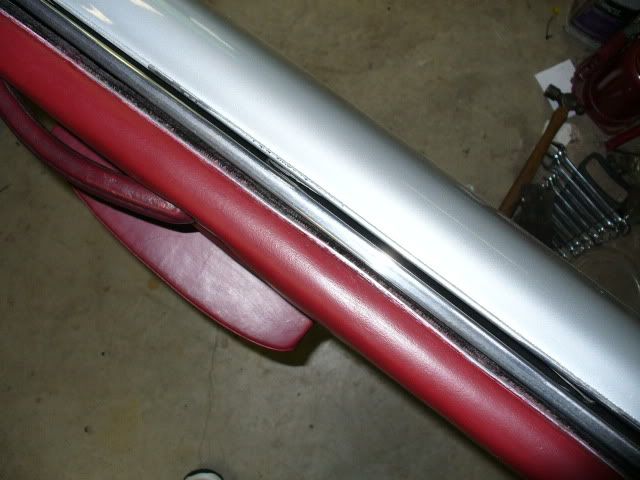 And again I want to compliment LEATHERIQUE for delivering what they promised. I'm adding them to my list of first quality Stude vendors.
When I get the seats done in a few weeks, I'll post more pix.
Bob