OK, Pulled the T-98 from the parts truck yesterday and discovered:
1) suckers heavy when you drop it out onto your chest.
2) when the shifter is in neutral the trans turns straight through like it was in gear, wont freewheel the input or output without turning the other end.
3) when I put it in a gear it locks up and wont move,period.
4) wont go to 2nd gear or rev.
Any ideas on what I need to be looking for when I open it up this afternoon would be appreciated. Is this likely something I can repair through the top cover? In my mind it seems to be locked into one gear and trying to be in 2 gears at once when you choose a different gear. This truck supposedly ran and drove when it was parked (likely due to rusty floors). The grease was a bit dirty but seemed like just grease, no metal or water,etc.. that I would look for in a destroyed trans.The gears it will go into it goes into easily. I would like to repair this one to replace the failing unit in my truck. Thanks, Steve
STOLEN Studebaker!Ventura County ad says contact
Barry @ 805-218-3658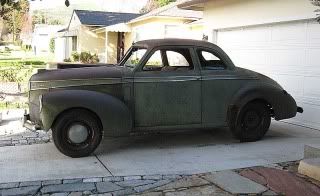 http://losangeles.craigslist.org/lac...544229962.html