Apparently, the vaccum advance is shot on 'ol Bess. The one off my '52 is just as bad. So, I need a new one. Any suggestions? SI doesn't list them and I can't call SASCO today.
The application is a 259 V8 '56 Commander engine.
The distributor cap says Delco Remy 13 inside. Or:
<center>Delco
made in
USA
Remy
on the opposite side, facing the opposite way;
13</center>
This is related to the trouble shooting I'm doing with Bess' popping or carb-backfire problem. I've cleaned out the float-bowl vent (no problem I could see) and will be changing the spark plugs today.
It's been suggested to me that the timing gear could have jumped a gear, or be worn out. This seems unlikely to me as the car starts (one or possibly two turns of the motor
cold
) easily, and idles beautifully. It can be driven, but, whenever there's a load or incline, will pop and kick. One time it even backfired when I shut it off. Just the once though. I've been able to move it to either side of Lewiston, a trip of a mile or two, without serious problems. Still, I'm unable to climb any of the passes out of the valley.
So, suggestions are welcome.[8)]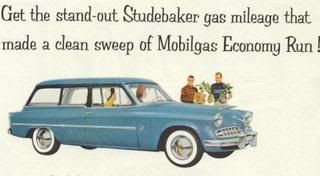 Lotsa Larks!
K.I.S.S. Keep It Simple Studebaker!
Ron Smith
Where the heck is Lewiston, CA?