Well wouldn't you know it. I got the 355 SBC fired up (Roared to Life is a better phrase) in the 83 Avanti ( Golly!!! That thing will stir your soul. Nice rocky idle at 750 RPM, cam comes up fast like the SBC race motors of the past, starts on the first turn. But I digress[
][
])
Found a large puddle of antifreeze under the car this afternoon. Looked all over the engine and it was dry as heck. Looked under the dash and my hand found the carpet soaked with Dex-Cool. Apparently the control valve or core is leaking to say the least.
A long way to go to ask, where do you find heater control valves or heater cores for an 83 Avanti.
I'll cover the engine start and other items in a later post.
Thanks
Bob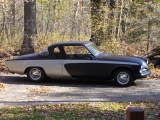 ,