I have a problem with the brake lights and right turn signal on my '56 Parkview. When the brake is depressed (no, Prozac doesn't help) the left front running light comes on, brightly, along with both tail lights, dimly. When the left turn signal is activated, both left lights work perfectly. When the right turn signal is activated, only the rear comes on, slowly and dimly. Sometimes both rear flash, slowly and dimly. Should I turn on the parking lights, only the front light, both sides. No rear running or parking lights at all.
What gives[?] I'm completely flummoxed![8]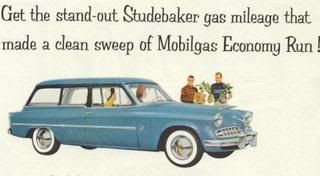 Lotsa Larks!
K.I.S.S. Keep It Simple Studebaker!
Ron Smith
Where the heck is Lewiston, CA?