Ok folks, I admit defeat. Can anyone tell me if there are after market headers that fit my 1983 Avanti II.
I've tried Hooker HPK2001 block hugger headers and Circa 1988 Corvette headers and they are not close. The problem is the steering box and mounting apparatus.
I'm about to go with the OEM cast iron headers which is not all bad but I'd like something that looks a bit more estetic.
W Carroll suggested the Sanderson cast manifolds but I've sent him a couple of emails and no answer. Would they work?
The problem is that there is only about 2 5/8 inches between exhaust port #5 and #7 and the steering.
Help please [?][?]
Bob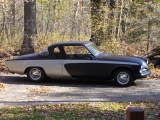 ,