Looks like Ol' Bess is one sweet piece of work![:X] I got underneath her to see why I couldn't pull out the parking brake handle. Bess has a Hill Holder! Surprise, surprise surprise! Golly gee Sarge! Hee-yuk!
So this car has an OD tranny, Hill Holder, optional Backup Lights, under seat heater, and a radio(so far). Every day she gives me another little surprise![:X] But I digress...
The Ol' girl has no brakes. So...
do I have to rebuild the Hill Holder when I rebuild the master cylinder?
Do I bleed the HH separately from the brakes or will it bleed whilst I do the rest?
And any ideas why the parking brake won't work?
An idea just occured to me:
If the hill holder is stuck, could this keep the master cylinder from working? Or would that lock up the brakes as well?
If the HH got stuck whilst the brakes were disengaged, would it keep the master cylinder from working[?][?][?]
After I fix the brakes there's the windshield wipers, the heater blower, the radio...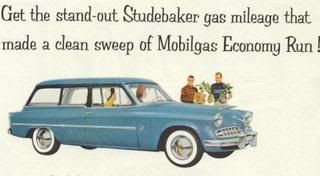 Lotsa Larks!
K.I.S.S. Keep It Simple Studebaker!
Ron Smith
Where the heck is Lewiston, CA?