And how do you do that? How does this vent work? I assume it has some way of preventing foreign material from entering other than a tin cap? But then again I suppose that is why many of the 4 wheelers are modifing thiers even when they already have tubes?
Do I use compressed air, and how fragile is it, does it have a diaphragm that I could destroy? What is under the cap? I suppose if the cap were fragile I problably would have destroyed it chisling at the inches of crud burying it.
Can I spray something like brake cleaner in it? I suppose the brake cleaner would evaporate out the the ATF fluid quickly?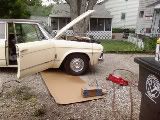 66 Daytona all stock