Ok, they're both three wire, externally regulated. The GM has a spade connector. A blue and a white wire. Which is which in compatibility to the Studebaker wiring. Isn't one a field wire and the other, what, a ground? I don't want to burn this thing out, or anything on the car, for that matter.
So, help please. This is for a '56 Parkview. Colour to colour, what is the connection?
Correction!
Sorry, the Genny has two wires, both white, one is considerably thicker than the other. The Alternator has three, red, blue, and white, the red being the heaviest.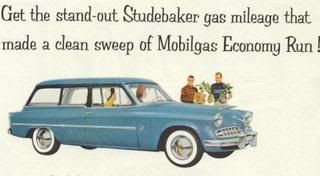 Lotsa Larks!
K.I.S.S. Keep It Simple Studebaker!
Ron Smith
Where the heck is Lewiston, CA?