I have an ohv six and an overdrive tranny. The six is out of Pick-a-truck, an unwanted and homeless '62 Champ (will no one give him a home? ahem...). The tranny is currently residing in my '52 Commander. Are they compatible? I realize the Govenour and Solenoid will have to be replaced (they're six volt, need twelve). But mechanically, will they mate with the 170ohv six[?][?][?]
By the by, I'm willing to send the engine with Pick-a-truck if someone will give him a home. It runs and needs a fuel and water pump. More precicely, the fuel pump just needs a fuel bowl (SI has them, seven bucks I think). Oh, yes and a floor. Yeah, it's bad. A host of other things as well.
Who could resist a face like this, doesn't that lopsided smile just... grab you[?]:
Reminds me of a Basset Hound.
If I am unable to get Pick-a-truck a home, I'm thinking of working out a deal with the junk dealer in the area for his '57 or '58 Scottsman sedan. I'll put the six and OD tranny in it and try to get it a home through e-bay. The car's in reasonable shape. I'd just like to get it out of that yard. Provided he hasn't sold it yet...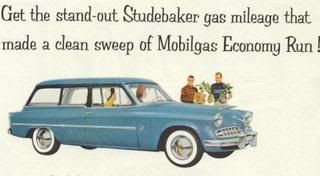 Lotsa Larks!
K.I.S.S. Keep It Simple Studebaker!
Ron Smith