quote: Sometimes size does make a difference.
Where have I heard
that
line before??
I supposed that there would be differences. However, the only difference that I've found on this engine (comparing it to the six I pulled out of my '62 sedan) was the location of the starter. My assumption was that the car had an automatic, the truck a manual, and therefore the difference was explained. I was able to strip the bellhousing and all accoutrements off the six and install the necessary parts for the automatic. Everything fit and the engine started and ran during an unmounted test.
All the wiring would have been the same on the sedan as the truck. But that kind of figures anyway. Remember, the Champ body is a sliced sedan body anyway. It was kind of like the Coupe Express in that the truck's cab hailed from an automobile. Unlike the C.E. the Champ ended up with that ungainly Dodge fleetside bed. But I degress.
My concern was the physical differences of the vehicles as to whether they would be compatible. The bell housing on the six was bolted to the crossmember by two bolts in the base. This is unlike the bellhousing on my V8 Champ which has two 'legs' which mount it to an identical crossmember. Nevertheless the transmission in that Champ mounted to the V8 I took out of the Blue Witch (64 Wagonaire).
You know, I have another OD tranny sitting around here. I've mentioned it here before. It came, gratis, in the other Daytona Twin. I'll have to measure the input shafts and so on. I forgot about that one...
This is all, of course, assuming that Frumpy (the '52 sedan) doesn't find a home either.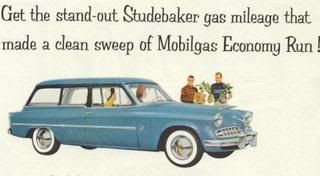 Lotsa Larks!
K.I.S.S. Keep It Simple Studebaker!
Ron Smith