I purchased a 3.54:1 ring and pinion to swap out my 3.31:1 TT in my Hawk. I was trying to track down a Master bearing kit c/w shims, pinion seal and the other stuff that comes in a Kit.
My question along with Hippie is that the pinion that I bought is a 10 spline. The kits for pre-1967 Dana differentials are for 19 spline. One kit makes a note that the 19 spline is the same kit as a 10 spline
With that said, and all the other posts lately on the Dana 44's...
did I buy the correct ring and pinion for a 1964 Hawk
I have not taken apart my differential yet and want to swap this ring and pinion out before the Cedar Rapids Drags.
The correct information would be cool for Hippie and me.
Thanks Allen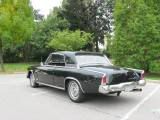 1964 R2 GT Hawk
1963 Daytona Convertible
Oakville, Ontario.
Hamilton Chapter
See you in Cedar Rapids Summer 2009