I'm still getting quite a bit of carbon in my exhaust. I've got a R2+ cam in my engine therefore little to no vacuum at Idle. I was checking out metering rods springs for sale on Ebay, but really don't know what I should be using or what strength I have in my carburetor now. This is what is available:
3" Hg (blue), 4" Hg (yellow), 5" Hg (orange), 7" Hg (pink) and 8" Hg (plain) springs.
The springs in my carburetor are not color coded so I haven't got a clue where I am at or what is stock.
What Springs should I be using? What is the lighter spring?
Here's the web site:
http://cgi.ebay.com/ebaymotors/Carte...QQcmdZViewItem
Thanks, Allen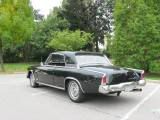 1964 R2 GT Hawk
1963 Daytona Convertible
Oakville, Ontario.
Hamilton Chapter
See you in Cedar Rapids Summer 2009