I had some trouble starting my R2, it was cold, snowing like a banshee and she just didn't want to start. The engine was pretty well flooded, she had backfired, and the battery was getting low. I gave up starting it and took the carburetor bonnet off and noticed I did not have a flapper valve any more (the rubber part). I'm not sure what happen to the flapper. I was pumping the carburetor pretty good when I thought she would start so I thought maybe the flapper got stuck in the carb, caused the flooding, and fell right through into the intake manifold. I could not see the flapper in the carburetor nor did the gas peddle ever feel like something was jamming up the linkage.
I've taken the carburetor off looked into the manifold but still can't seem to find the flapper. I can't believe the flapper valve was missing the last time I put the carburetor bonnet on so where is it?
I would hate so see the flapper get stuck in one of the valves and then stop the valve from closing, causing bent valve from a piston hitting it or something.
Any suggestions?
Allen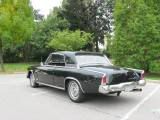 1964 R2 GT Hawk
1963 Daytona Convertible
Oakville, Ontario.
Hamilton Chapter
See you in Cedar Rapids Summer 2009