Well, getting a look at this truck's brakes shows me that a Champ's brakes are considerably different than those on my Larks. Actually, they seem smaller, if that makes sense. Also, I can't seem to locate that little slot through which one can back off the brake shoes. I'd like to check the condition of the shoes. I can't get the drums off though.
So, this begs a few questions of the experts;
first, how do I back off the shoes?
Second, can the drums and backing plates from a Lark be installed on this truck? I have a wagon with the finned brakes all round. They're in good shape. Can I switch?
Thanks in advance...
P.S. I don't have the manual to this truck presently. So I'm kind of in the dark, chassis wise. Currently, there just isn't enough in the coffers for one either. So, if someone has it on disk and is willing to forward the appropriate pages....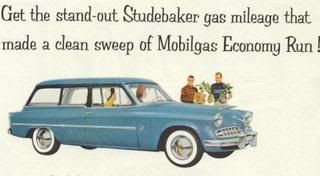 Lotsa Larks!
K.I.S.S. Keep It Simple Studebaker!
Ron Smith