quote:Originally posted by WCP

On my Avanti Turner conversion, I'm using 1&1/32" dual MC, and 13/16" rear wheel cylinders with the non-energizing stock setup and no proportioning valve. This is to maintain original design clamping balance. I'm pleased with the performance to date. You used to be able to acquire piston and seal kits for cylinders bored out to 13/16". Haven't checked lately.
Please don't think I've being facetious with these questions. I'm truly looking for information.
What calculations did you do to determine that you can use a bigger bore M/C, bigger bore rear wheel cylinders, and stock front caliper pistons and have a balanced system?
You say you didn't use a proportioning valve, but did you use an external metering valve and/or residual check valve(s), OR did the M/C you selected have either one of these or both.
If residual check valves were used, what pressure front and rear?
You say you are pleased with the results. What occurs in a full on emergency stop from 60-70 MPH?
What was the stopping distance before the modifications from 60-70 and what is the stopping distance now?
Thanks.
Dick Steinkamp
Bellingham, WA
[IMG]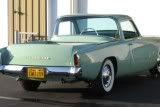 [/IMG]