Allan,
I don't know what yours is worth to you but in Oct/07 I paid $53 for a 63-64 R1 Carter core on EBay. I don't even know if it works and is considered a core to be rebuilt.
Sorry guys my Original is not for sale but the Chrysler ones are bang-on to the original anyway when the mod is done and they are brand new.
Allen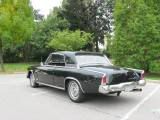 1964 R2 GT Hawk
1963 Daytona Convertible
Oakville, Ontario.
Hamilton Chapter
See you in Cedar Rapids Summer 2009