Gentlemen
Any suggestions???
Looking to stuff the largest 16" wheel/tire combo on this car. Mustang 2 front clip, S10 rear end.
The current set up, is as follows (using a tape measure).
front, rear
size 205/70R15, 225/75R15
dia 25.5", 28"
tire width 8.75", 8.75"
tread width 7.5", 7.75"
rim size 15x6, 15x6
rim offset- from 3.875" , 4.125"
back of wheel
The rears have virtually no clearance left to the fenders & one is actually rubbing
-The wheels are marked "15x6 JJ dot ct&w" Does "JJ" denote bolt pattern?
-Lug nuts threads are different front to rear (marked metric???)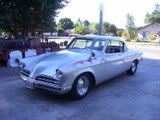 1954 Starliner Hardtop
Tacoma,Washington