I have a 259 that I purchased from Lionel Stone about three years ago. It was supposed to have been entirely rebuilt. He kept going on about how sweet a motor it was. My mechanic thinks that they did a very poor job. He says that it looks like the pistons and bearings were replaced. Still, the engine could have been properly cleaned out. The oil came out black after running it ten minutes the first time. Not a good sign.
I put it in my '64 wagon and drove it for two years. The car gave me so much trouble that I gave up on it and pulled the engine. Other than the balance wheel being 25 degrees off, and the engine being rather gutless, it has performed adequately. It is currently in my '62 Champ. The engine hasn't run for a year. I transferred the starter with the motor. The only thing I changed was the bellhousing because the truck's is different.
Ok, enough background.
Presently, the engine won't start. Now I can't even get the motor to turn over. I used to be able to turn it over with the fan in the wagon. Now I can't. Is it possible that the motor froze up on me? I mean, really... after only two thousand miles (possibly less)?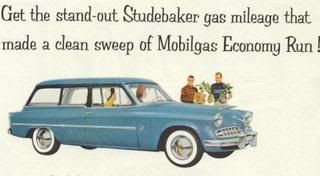 Lotsa Larks!
K.I.S.S. Keep It Simple Studebaker!
Ron Smith