I have a '62 Regal fourdoor. She came to me with a dead (frozen solid) six. I have a six from my short bed Champ that runs. I tried to install it and I think the old girl liked the V8 better. She won't let me put it in. I spent the better part of nine hours trying to put it back in and was unable to do so.
Did the sixes have different mounts than the eights? I've got the ones this car originally had and I can't see any difference. Then again, what do I know (very little actually)? This is driving (no pun intended) me nuts! The engine is just 1 1/2 to 2 inches short of being on the mounts and it's slam up against the firewall.
I'd really like to be able to put this car back together. It would be easier to get her a home. Right now, I'm completely flummoxed!
I really like this car. Could someone please help me save her?
Any ideas, anyone?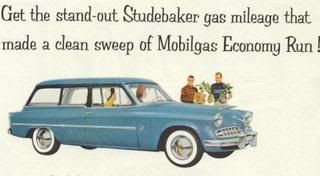 Lotsa Larks!
K.I.S.S. Keep It Simple Studebaker!
Ron Smith