I checked out the rear mount and all appears fine. I've got about 2000 miles on the entire drive train. I purchased a HD high stall torque converter from Bob Helm and a rebuilt powershift from Don Simmons last year. I installed Dextron 3 for my choice of transmission fluid this spring when I started the whole shebang up.
I decided to change the fluid this morning to Type F with Studerich's recommendation.
The Dextron 3 fluid was a tad smelly and not as pink as I would have liked.
Last year when I purchased the Torque converter, it had a wicked smell and little fluid that was in it was quite dark when I received it from Bob Helm. I flushed it several times with Dextron 3 prior to installation. This smell was similar to the oil that I just removed from the transmission only not near as bad.
I just took the Hawk out for a quick spin. The noise is gone and actually shifts better now than before.
Hopefully I have resolved the issue and I am now under the assumption that there may have been some residual oil in the torque converter from the get go tainting the system.
I am going to check the transmission fluid after coming back from the Pure Stock Drags and see if it is still over heating the fluid.
Thanks for the info.
Allen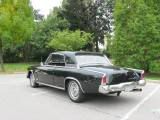 1964 GT Hawk R2 Clone
Oakville, Ontario.
Hamilton Chapter
See you at the PSMCDR in Stanton Michigan September 12& 13