I've noticed lately my powershift transmission is Clicking when taking off. Mine makes no noise in park neutral or reverse. Jon Myers describes the condition on Bob Johnstone's site:
http://www.studebaker-info.org/TW/tw0679pp13.jpg
My situation is a new engine/transmission combination, new transmission mounts etc. so I am starting from scratch.
The shift is fine, down-shift fine too. To eliminate the clicking sound do I require more or less pressure on the control valve?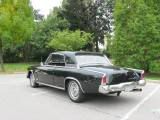 1964 GT Hawk R2 Clone
Oakville, Ontario.
Hamilton Chapter
See you at the PSMCDR in Stanton Michigan September 12& 13