I believe the split master cylinder is bypassing internally in my newly aquired '63 Lark Convertible.
I adjusted the brakes, bled the system (twice)and the pedal is up but falls to the floor when I am stopped and depressing the pedal for a period of time. It takes about a minute or two to feel the pedal fall and seem to do it intermittently.
My question is this: What is the difference between a none power assisted split master and the vacuum assisted split system?
I am considering installing a power assisted system on the car in the near future and would like to get the proper set up.
I am a bit confused with SI parts book regarding which master cylinder to pick up. Here's the parts page:
part# 1559771 or part #1561611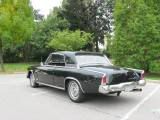 1964 GT Hawk R2 Clone
Oakville, Ontario.
Hamilton Chapter
See you at Niagara 2008 Crossroads Zone Meet July 18-20