I finally got a new rear freeze plug in my 1950 Champion! Better yet, so far, it isn't leaking! I even did it without pulling the engine or steering column.
I should have known that it would take a Studebaker tool to solve my Studebaker problem. Here's what I used to get the plug into the engine: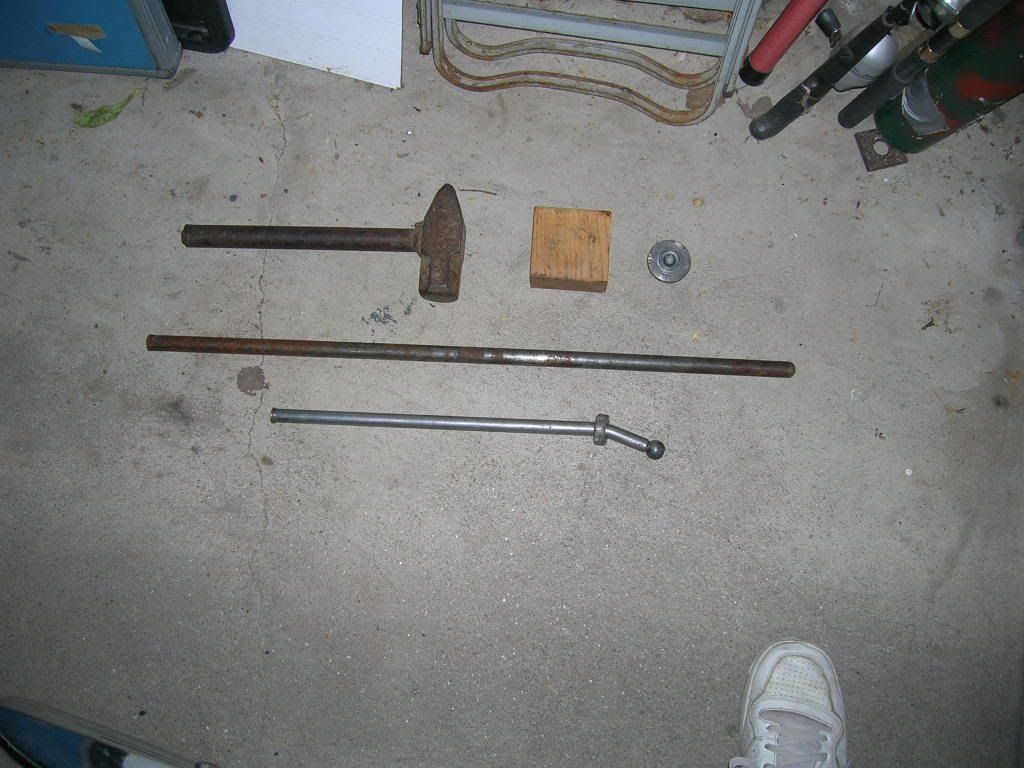 I got a brass plug, which is easier to drive in when you can't put a lot of force on it. I also made sure that the hole was clean, using my Dremel with a wire brush head. Then I gooped the plug with Permatex Form-a-Gasket 1A (as prescribed by a real old-time Studebaker mechanic)and got it started by pounding with my BFH on a wood block held over the plug.
I also had, as I mentioned in an earlier post, a special pivoting head plug driver that I borrowed from a mechanic friend. That didn't work very well, though, because the shaft was too short. Then I stumbled on what became my secret weapon. Does anyone recognize that long rod?
Its the rod/mast from the factory bumper jack! It is just the right length and diameter, with a rounded end no less, to fit the head of the angle driver, once unscrewed off its pivot mount. I held the driver head on the plug, put the rounded end of the jack rod into the socket of the head, pressed it against the plug and started hammering (not too hard)
A couple minutes later, I had it in there just right! It was almost an anticlimax after fighting the thing for a week and ruining three expansion plugs.
I let it sit overnight so the Permatex could cure, then loaded up the cooling system. So far, no leaks! Truly a triumph of "MacGyver" engineering!
1950 Champion 4 Dr.
Holdrege NE