quote:
Originally posted by studebaker-R2-4-me
Allan,
Does the Lark frame bracket sit that low on the side of the frame? The Hawk bracket for C-K that I installed welds to the top and to the side of the frame.
Like we discussed the added weight of the transmission and engine will lower the frame somewhat shifting the bracket mount potentially causing a different pinion angle on the axle or like Nels mentioned you will go through a lot of bushings if you could even get the radius rod back on.
Your car is looking great!
Allen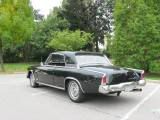 1964 GT Hawk R2 Clone
Oakville, Ontario.
Hamilton Chapter
See you at Niagara 2008 Crossroads Zone Meet July 18-20
The bracket in the picture is just flopping about--it will be welded to the top and side in the same manner as your brackets.