I come to the forum today looking for sympathy. This old korean war era chrome is just so horribly bad. I tried to get the dash together this week, it has a shiny coat of body color paint on it. The dash chrome is so weak that it comes off on the rag when you polish it. Not even with an abrasive, you can wipe it off with windex practically!
What to do? I can't rechrome everything. %$#@$!
So I have dash trim that is have poor chrome with mostly bronze showing through. Look swell. [xx(]
OK, enough whining. I am looking ahead to the hardtop trim, and I seek advice. It's pitted pot metal. Here's a picture of a finished hardtop, and mine that is still missing this trim at beltline and around the rear window.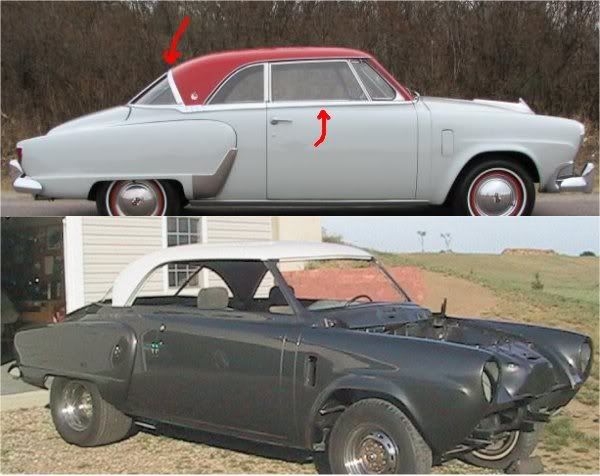 Leaving it off is not an option. The car is painted and I did not fill all the holes. Would look stupid anyway.
a). I am considering paiting all the trim the color of the underlying metal. White on the top, gray on the body. Think it would look OK?
b). Has anyone EVER seen a paint or powdercoat that approximates the look of chrome that they thought was decent?
c). Tough it out, and rechrome pieces over the next 5 years at a cost of thousands.
Dan
52 hardtop
www.studebakerhardtop.com