Be on the lookout for any plain-jane Plymouths lurking out there; they are escalating in value.
Cari and I took a "Black Friday" vacation down to the Ohio River to attend a fun, general, multi-family consignment auction in the Ohio River town of Tell City, Indiana. Among the offerings was this one-local-family-owned
1962 Plymouth Savoy 4-door sedan: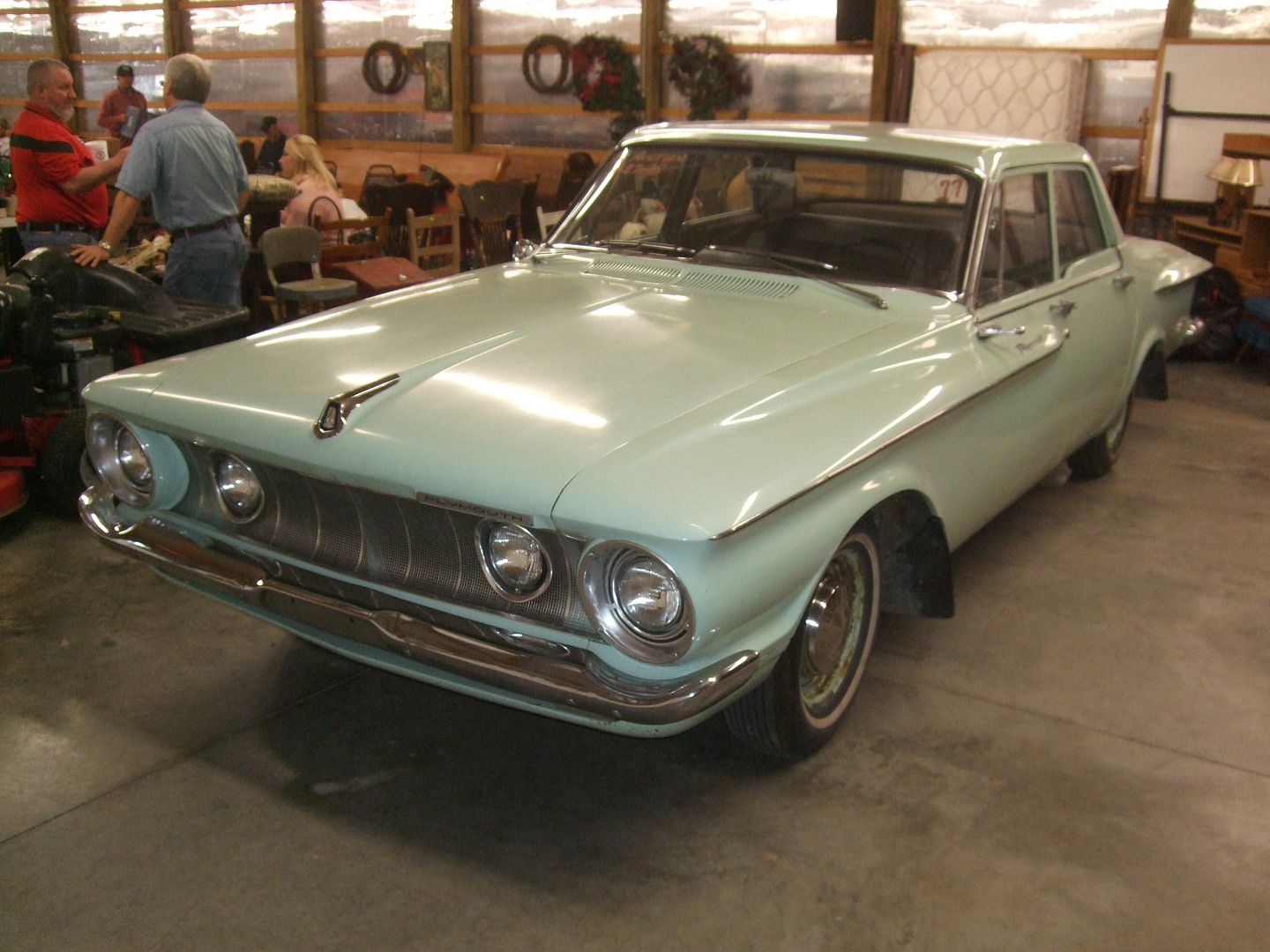 That is a
2004
license plate on it; the last year it had been registered.
Just as
plain
as you could ask for: Slant six with straight column three speed. It looked like one repaint in the original 1962 Plymouth
Code F: Pale Jade.
Most of it would buff up real nice, but there were some blisters on the roof that would require the roof being refinished to make right. No cancerous rust at all and didn't appear to ever have been, but some surface rust blemishes at seams and such. Nothing of any consequence. All the stainless trim along the fender and quarter and hood peaks was dinged up pretty bad.
Almost
no options: Fresh-Air heater/defroster, exterior rear-view mirror (with the head broken off) and [old, bias-ply] whitewall tires. That was it; I couldn't find anything else. Radio blank-off plate intact; some original paperwork in glove box. From a local estate with 41,000 purported actual miles and could have been right. I wouldn't bet against it.
They started it up and it ran well.
Correct battery hold-down present and accounted for,
a big plus that undoubtedly drove up bidding among knowledgeable collectors. 'Didn't have a new battery under it, though, as you might expect. The battery looked plenty old but at least cranked the car long enough to start it without a jump.
Bidding was enthusiastic with several legitimate bidders who didn't start to fall away until it ran over
$4,000
...but a couple guys held on until it ended at
$4,600!
You bet it
SOLD;
the consignor was the nephew of the deceased original owner and if there had been space in the building and he had been a few years younger, he might have turned a few somersaults...
I would have!
So
heads up
out there: Forewarned is forearmed; plain green six/stick 4-doors are bringing
big bucks!
BP