I said I would try and show some pictures of my 53 Commander with a '58 Chrysler 392 hemi installed in it, so here they are.
It's coupled to a GM Th 400 trans from TCI using a Hot Heads adapter. The rear axle is a Currie copy of a Ford 9" using a nodular iron case and all the other good stuff (31 spline axles, Detroit Locker, and big 11 x 2.25 drum brakes). If I remember right, it is 51.75" wide at the wheel mounting surface.
As you can see, the car is a long way from being done. It's a solid California car that is 99% complete body wise (the interior is missing the headliner and door panels). All the original Studebaker drive train was long gone when I bought the car so I planned from the beginning for it to be a Hot Rod.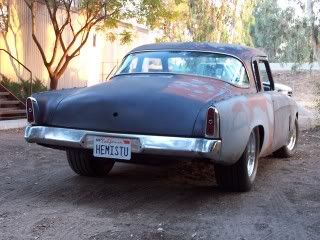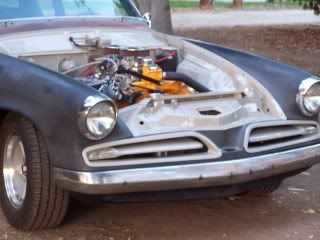 If you don't see the pix that's my fault, I was trying to change them by using the edit icon and they vanished. I will re-post the pictures.
ddavis