I have been viewing with interest the vehicles driven and being restored by the members who post here. What follows are pictures of some of the trucks that are now being driven or under construction.
the first truck is now my daily driver. I only drive Studebakers. This truck started as a 2R5 but with 3/4 ton champ drive train and a 289 V8 with power steering and power brakes and a play on the model designations it is a 2R12. It is shown here with 3 recently purchased 289 engines so it rides a little low
the next is a truck waiting form me in Missouri. One of my fathers last remaing farm trucks. It has new brakes and a new engine.
This truck is one currently undergoing complete frame off restoration. It came from a family in Clear Lake Iowa. All that is left is to sandblast the box then paint doors,fenders and box. It will be given to my youngest son who is the last to own a Studebaker.
This truck and lark are now driven by my two daughtors. The Lark was purchased out of Arazona with 52k miles. The truck was given to me as a parts truck and rebuild for my father-in-law when he became unable to drive it any longer it changed hands.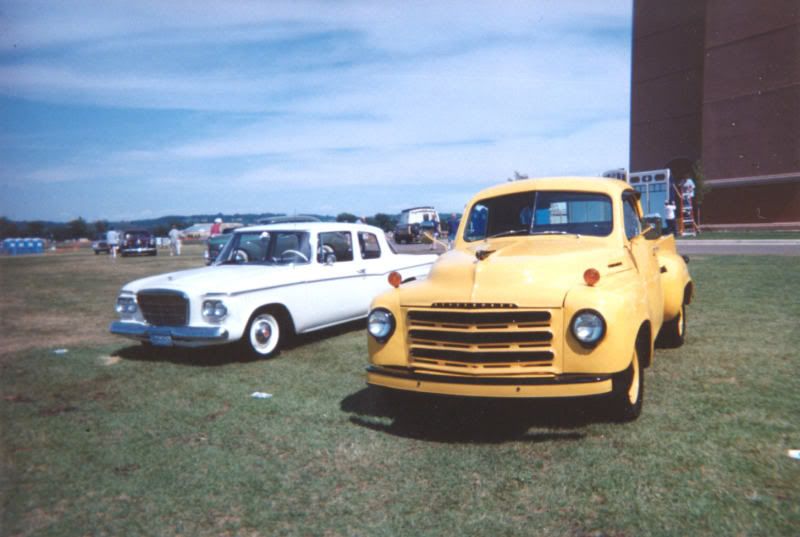 This truck is owned by my oldest son. It was truly a barn find. It is the most sound non rusted truck I have seen since I was a kid.
This last truck will be listed for sale in the April Turning Wheels. I wanted a 4WD truck to restore but have too many to finish and disability funds prevent starting another project. It has a new radiator, carburator, tie rod end and all new brakes, Runs and drives just the way you would dream it would.
There are more that can be shown perhaps later. Ted