When I bought the Lark back in 2003, there was a box in the trunk that had an extra water pump in it. Pump that was on the engine started to leak earlier this summer so the mindset was to order another "extra" pump to ride around in the car's trunk - but it had to be installed on the engine today instead.
Got started with the process of getting the extra pump ready for installation. Glued on a new gasket and went to screw in the heater hose pipe and noticed that no matter how I held my tongue, the pipe was not going to screw into the housing - must larger than the housing.
This is the old trunk pump on the left and the pump removed from the car on the right - big difference in the size of the heater hose pipe. The brand new pump housing had the same size fitting as the old pump so it was installed instead.
Is the pump from the trunk (a rebuild) an earlier Champion water pump housing that was rebuilt with the longer shaft for the later six cylinders?
Also have a question about size of fins on impeller.
Old pump:
New pump: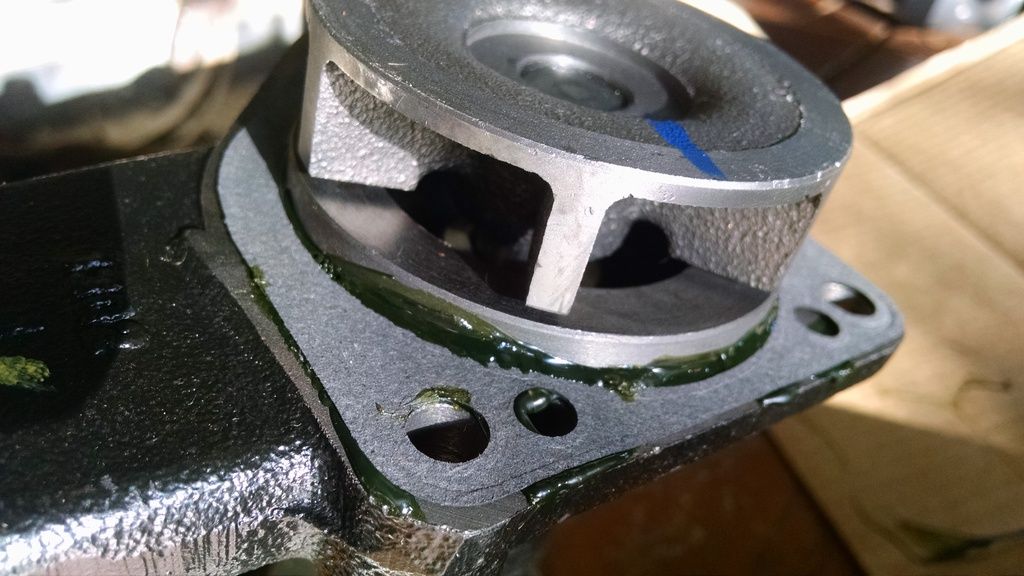 Is there a reason for such a difference in the thickness of the fins on the newly acquired pump? It will not be pumping sand but it looks thick enough too...
The old extra pump is something I cannot use and cores are not wanted - so it is free to anyone who wants to pay for shipping...has a brand new gasket attached to it