Cousin George Krem's factory overdrive 1958
Golden Hawk

has just been placed for display on the most prominent of three turntables in the
Kearney
[pronounced CAR-nee]
Classic Car Collection
in Kearney, Nebraska. Last year, the museum's attendance was over 10,000:


George reports that it is in a corner where all the museum foot traffic passes, so everyone attending the museum will see it. George's car is the one formerly owned by late SDCer Asa Hall. It is one of only 158 1958 Golden Hawks equipped with stick overdrive. George elected to have it refinished in the original colors, but in the 1957 color scheme, where the accent color is applied to only the fins. Originally, the car also had a gold roof, per the standard 1958 two-tone treatment.

George said he is happy to have this
photograph because it's the first one with the Speedster wire wheel covers installed. He and friend Richard Telfer spent most of a day adapting those Speedster caps to new 15X6 Ford wheels; the result being a completely stock look and they look great. He painted the Ford wheels black so that any part of them visible through the wires would not be seen. (15" wheels were a regular production option on 1958 Golden Hawks for customers who did not like the new 14" wheels that were standard equipment. Of the 878 1958 Golden Hawks built, 97 of them had the 15" wheel option. Of those 97, 47 of them were stick overdrive cars.)


Earlier, the car had the 1958-style gold roof and 1957-style optional wheel covers when it appeared on the cover of the September 2007 Turning Wheels: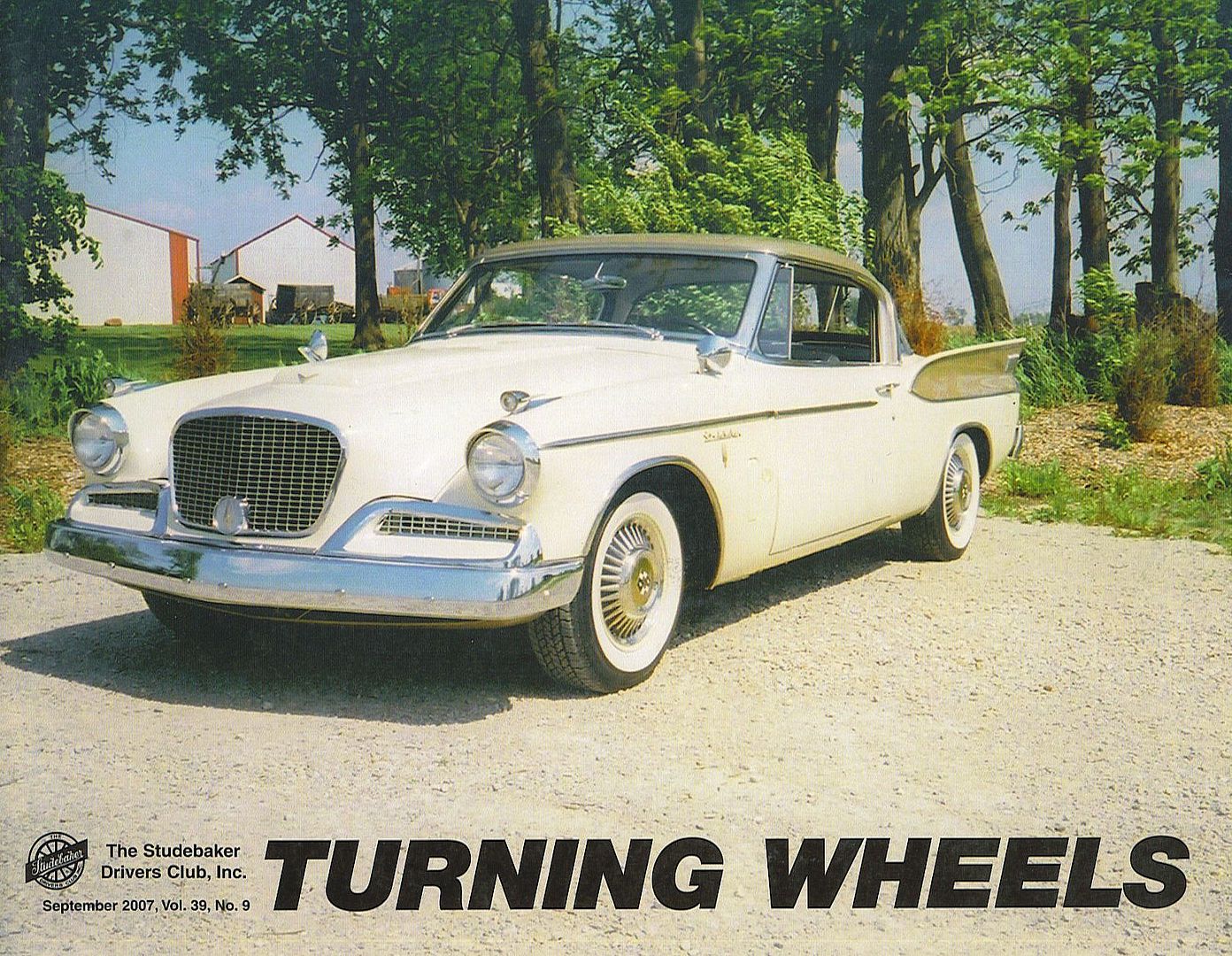 Cool beans, 'cuz.
BP