10 PM Saturday, November 21:
Howe Clark and I just returned from a white-knuckle round trip in bad winter weather 185 miles each way to attend the prestigious
2015 Muscle Car & Corvette Nationals
Show at The Stevens Convention Center in Rosemont IL, a NW Chicago suburb. 'Freezing rain most of the way up from central Indiana and a genuine snowstorm that had us averaging no more than 30 MPH on most of the Interstates coming back. Normally 3.5 hours each way, but today it was 4 hours going up and a full 6+ hours coming back!
But well worth it
to see Nelson Bove's Super Red
1963 R2 Standard
displayed at the show: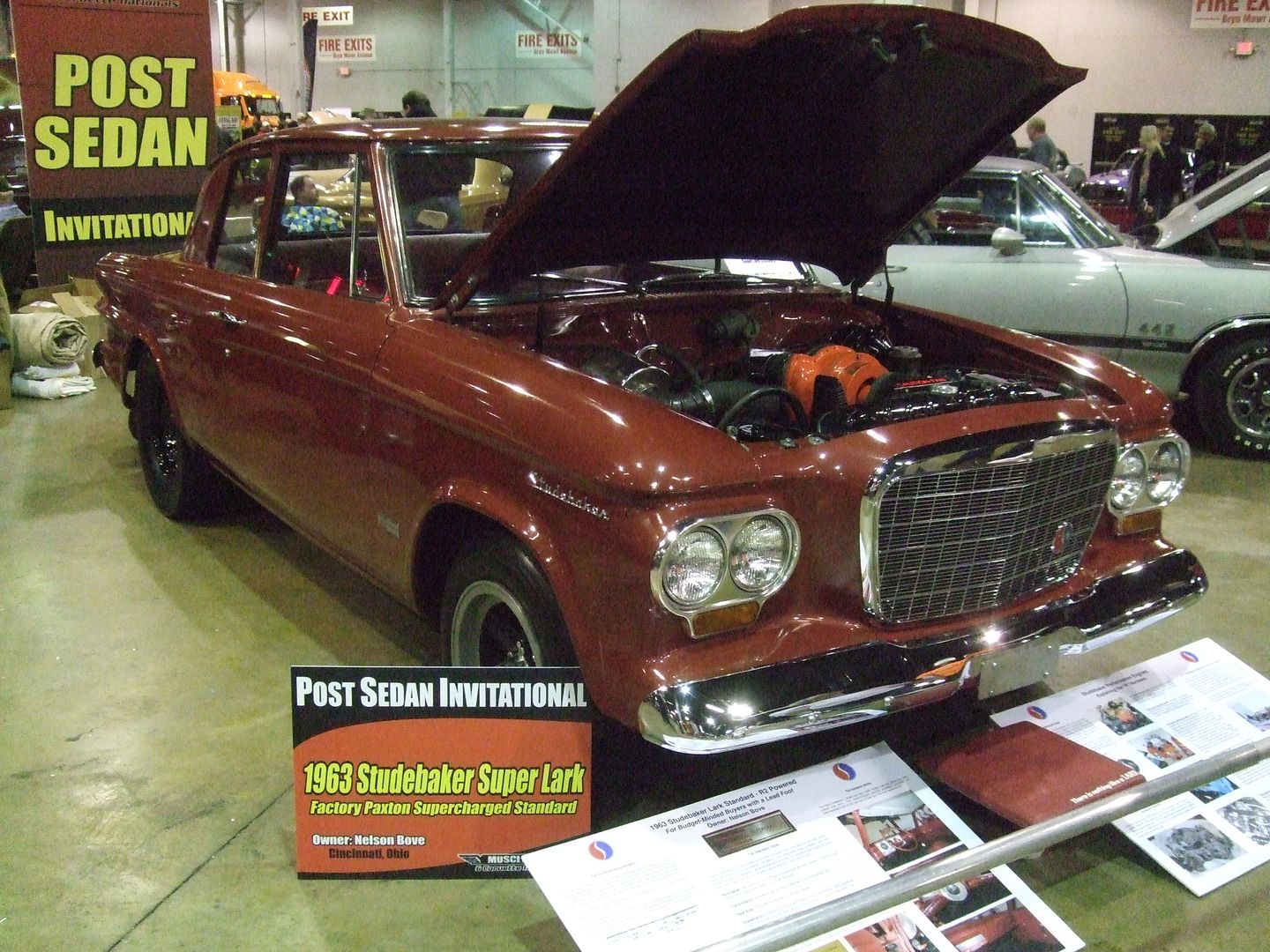 Nels' car was among perhaps eight cars in a special group of plain-jane, high-performance "Post" cars, a "show within a show" called
The Post Sedan Invitational.
The Standard easily garnered more attention than any of them. That special display had excellent placement within the show, near the front in a high-traffic area. Lots of good Studebaker high-performance publicity and promotion was to be had.
(Nels' Standard is special to cousin George Krem and me because we saw this very car brand new in The Studebaker Administration Building Employee Parking Lot in early summer 1963, where it was parked after having been ordered by a Studebaker employee. We know it was this car because we remember it well and there were no other cars built in this unique configuration.)
I came home to download nine photos to my Photobucket account, only to discover that downloading the first two filled my account. I need to set up more storage, so will do that Sunday and then post more photos to this thread.
For the time being, then, here are the Studebaker folks around Nelson's car:
Left to Right
, with apologies for any misspelled names:
Nelson Bove
"hisownself,"
Ed George Sr.
, Canadian and prominent forum participant
Craig Parslow,
"Show Prep Supreme" detailer
Eddie George, Yours Truly,
Eddie's girl friend
Anne Zimicki,
Michelle Krooswyk, Howe Clark,
Michelle's husband
Luke
(tall fellow; blond hair) and, last but not least, Steady Studey helper in this enterprise,
Jay Sliwa
.
Luke prepared the two beautiful information signs in front of the car, posted below.
4:45 PM Sunday, November 22.
Here's the promised balance of the photos:
The Official Entry Card displayed on the car's windshield: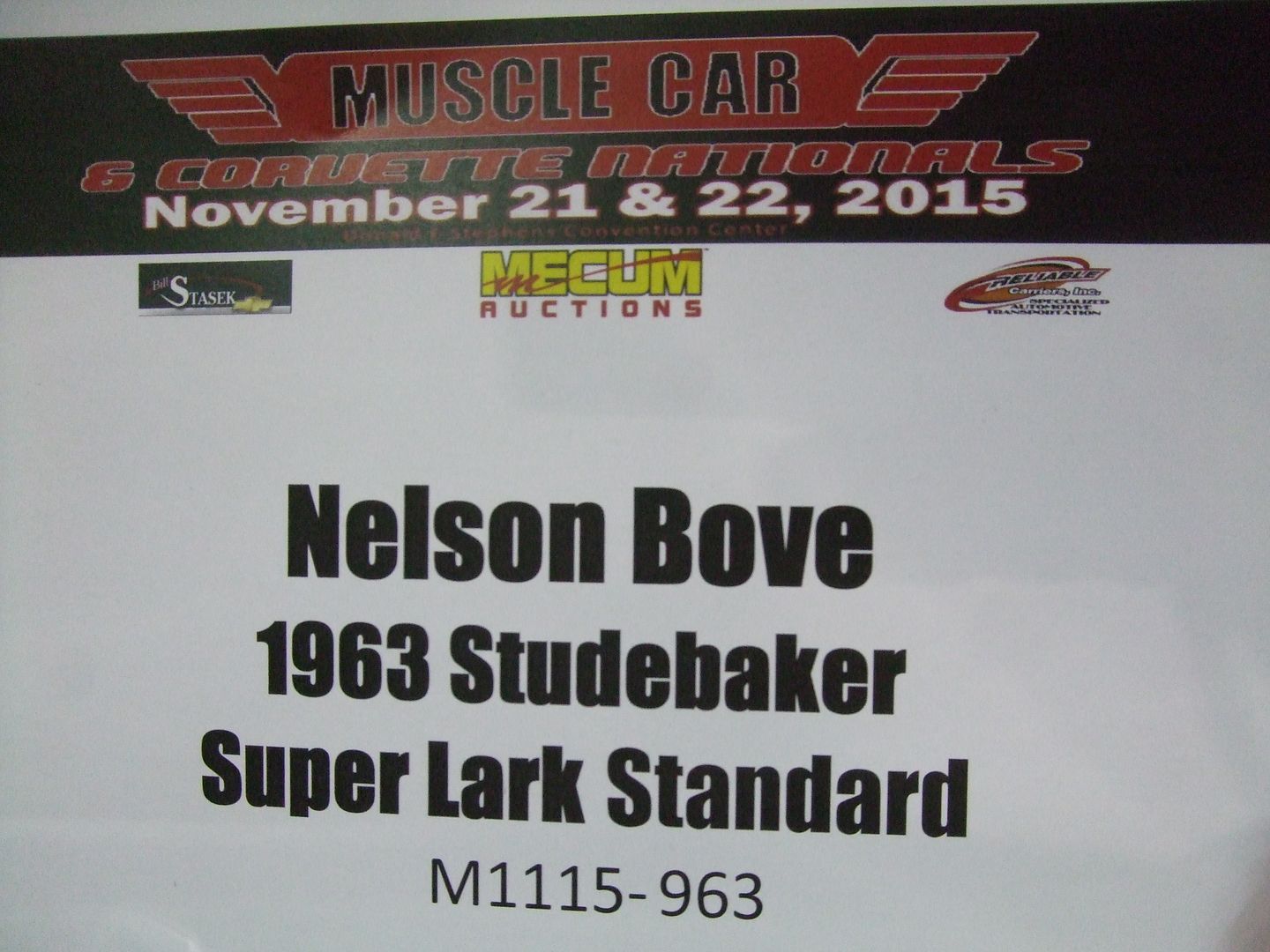 The "Pick" Award displayed later in the day when the awards had been announced. See the explanation of this award below: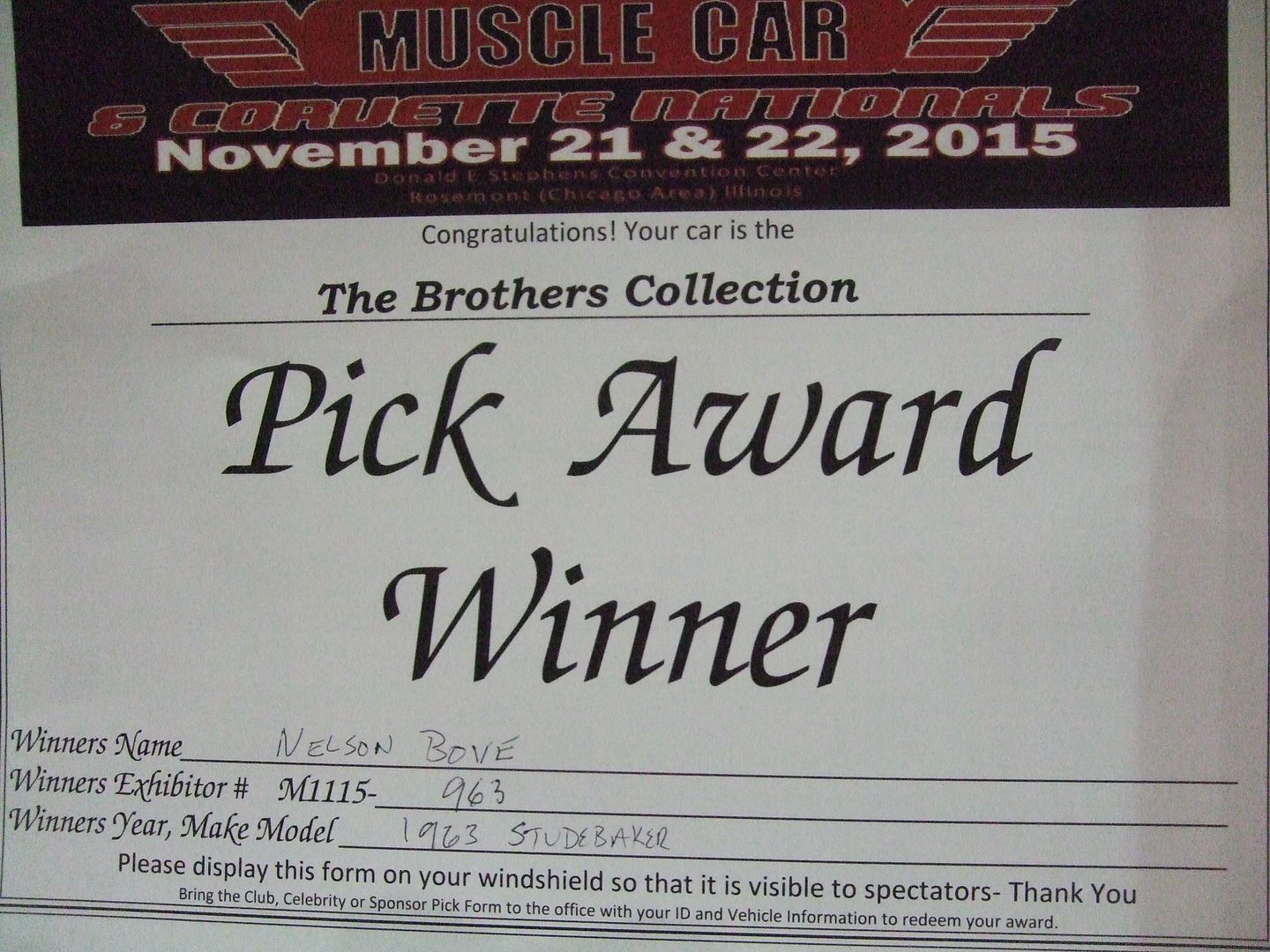 Luke Krooswyk poses with the signage he created. Well done, Luke; very nice!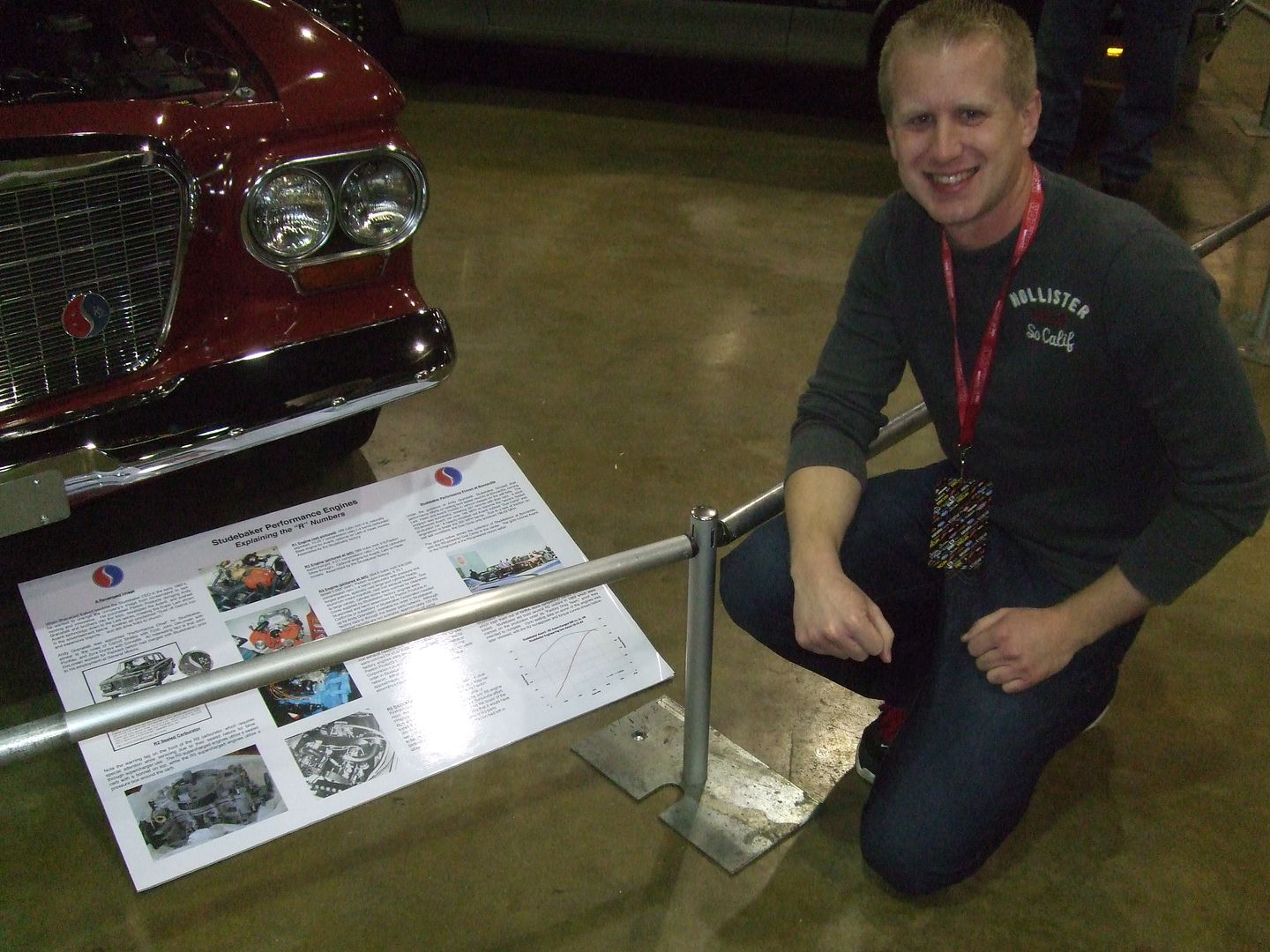 One of Luke's signs described Nels' Standard specifically: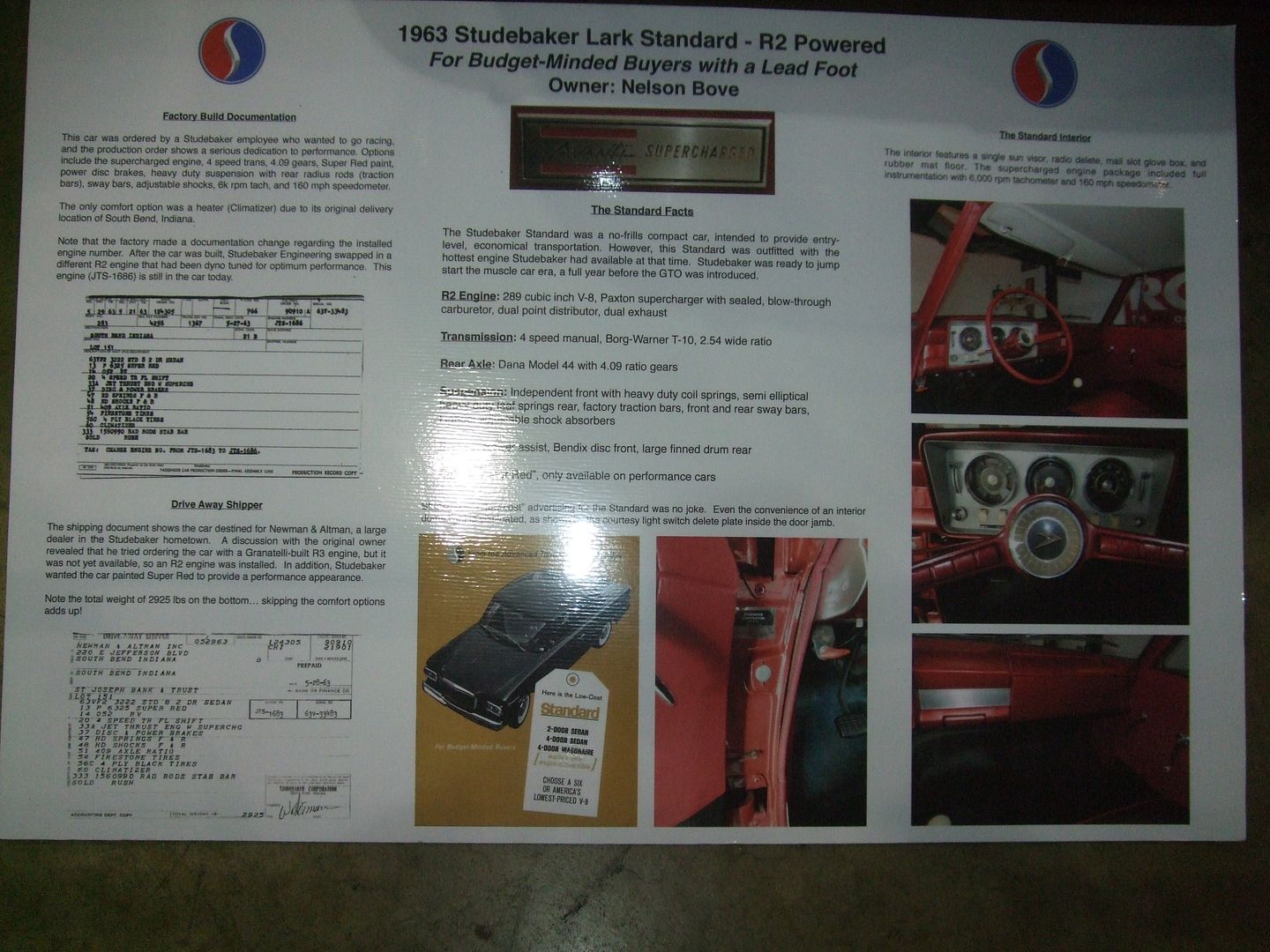 Another sign explained Studebaker's R engines in detail, with other general Studebaker information: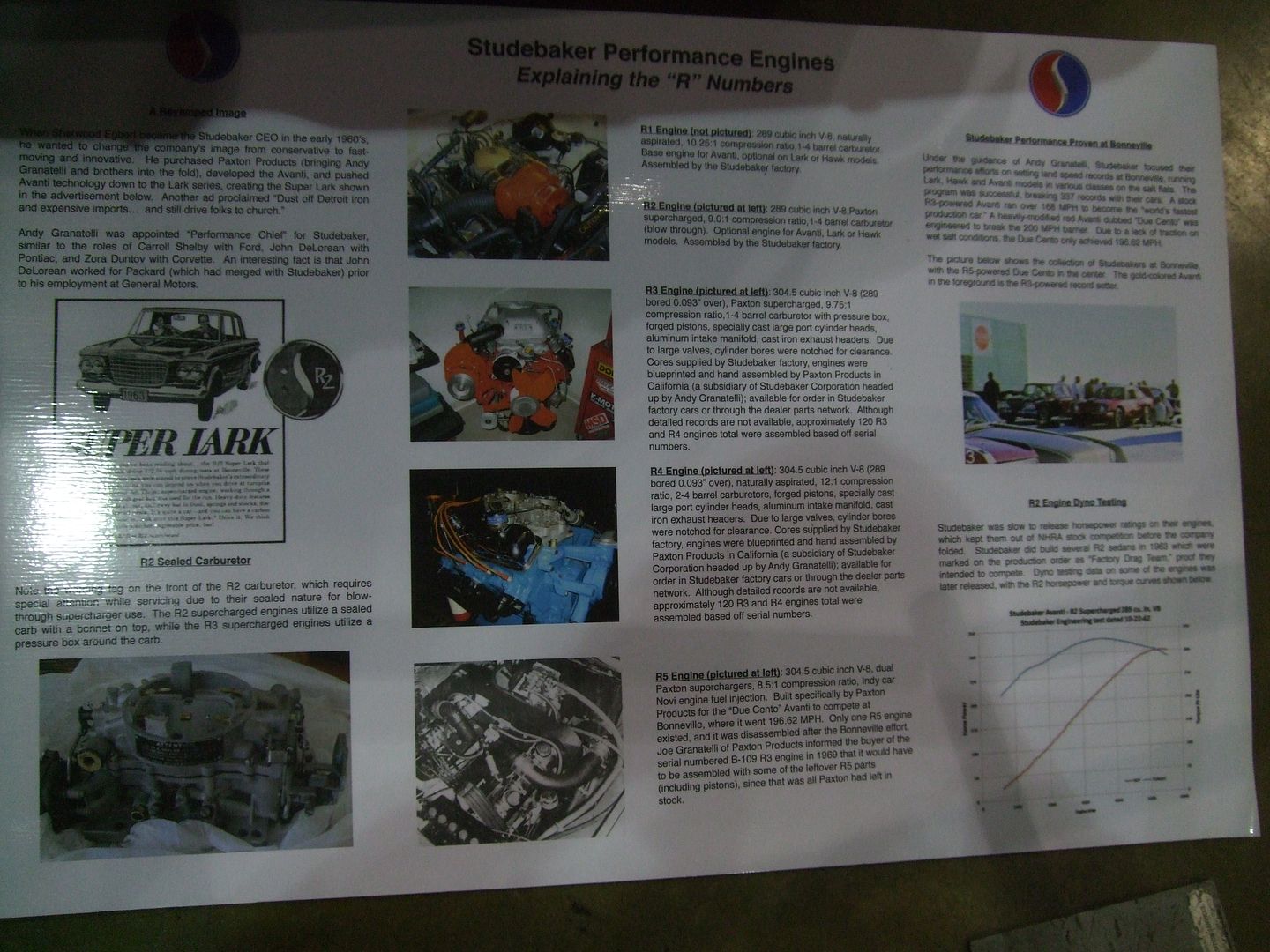 Here, Ed George positions the right fender
Studebaker
script. Nelson replaced the front fenders before painting the car maybe 35 years ago, but never "got around to" installing the
Studebaker
scripts, so this was the time to do it. To save drilling holes, they [sparsely] used trim adhesive:
A big plus was that the show promoters select one car from each group (in this case, post sedans) and award it
Promoter's Pick
.
Nels' Standard won that award in this class!
Congrats to Nels for that and
many thanks to Ed and Eddie George (and friends')
dedication to giving Studebaker this important exposure to the thousands of high-performance car fans/attendees at this show.
(I will gladly correct name spellings if someone posts corrected spellings in a subsequent post. Thanks.
)
BP