These probably aren't Studebaker. George found it in his shop this afternoon. We've been working on cleaning the place out so that it can be used this winter. Anyone know what they are???
I'm rather hoping to get Bess' original tranny rebuilt this winter. To do that, I have to get a Daytona Wagonaire going so that it can be sold. This will finance the finishing of Bess as a driver, a Landie pickup (to deal with Trinity county's road salt), and Ed's chassis transplant. Hopefully, the car will sell for enough (I know, dream on, right?).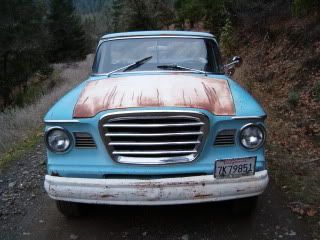 Home of the famous Mr. Ed!
Lotsa Larks!
K.I.S.S. Keep It Simple Studebaker!
Ron Smith
Where the heck is Lewiston, CA?