As of April 2015, The following letter is being distributed to applicable vendors and attendees:
Good-Bye Hoosier Auto and Swap Meet

From all of us at the Hoosier Auto Show and Swap Meet, we would like to thank you for being an important part of our 48th year and to congratulate the 2014 Fall Car Show winners.

You have probably already received a letter in the mailbox from us by now, but if not, as we look towards the new year we regretfully inform you that we must close operations effective at the end of 2014. These circumstances exist because of a steady change in the direction of our hobby.
Attendance at Hoosier Auto Show activities has dwindled to the point that it is no longer financially possible to continue holding our events.
The Board of the Hoosier Auto Show & Swap Meet sincerely thanks all of you who have helped make a great venture continue for forty eight years. We hope to see you all down the road.


Sincerely,
The Hoosier Auto Show and Swap Meet
Gosh, this takes me back.
I remember working on the show when it was The Biggest Deal in The Indiana Collector-Car Hobby, held on the infield of The Indianapolis Motor Speedway with the encouragement and endorsement of President Tony Hulman Jr. and Director of Grounds Clarence Cagle, a stern but fair man who expected the grounds to be picked clean at the end of the day Sunday...and my staying until dark many Sundays to make sure that was accomplished so we could come back next year! Hundreds of vendors and hundreds of collector cars and a wonderful time year after year.
The event was actually started in 1966 by two long-deceased hobbyists from our little Brownsburg IN:
Paul Griner
and
Frank Litherland.
I knew both of them, Paul especially. Although Paul has been gone many years, his widow
Gertie
moved from their farm to a condo only a block from our home, so I see her out and about, albeit slowly, a couple times a month while walking the dog, and always say "hi." (When people unfairly accuse me of not liking
any
Democrats, I always cite the Griners as two of the nicest people I know, although solidly on the other side of the political fence from me...
and, hopefully, Gertie would say the same!
<GGG>
) Paul embraced Indiana's rich automotive history, including
Studebakers,
of course, and was an authority on Indianapolis-built
Marmons.
He and Frank wanted to do something to promote the fledgling hobby in central Indiana...
and, boy, did they ever!
Yeah, I know things change, so spare me the lecture about The Internet being the most wonderful thing since sliced bread for locating cars and parts...as if locating cars and parts is the only important thing about this hobby. Facebook will never replace the human interaction of seeing old friends and haggling with new ones for an elusive part in the middle of September under a warm Hoosier sky.
(My 46,000-mile, mostly original-paint 1958 Bel-Air two-door sedan at [probably] the 1977 Hoosier Auto Show; NW corner of The Indianapolis Motor Speedway Infield, north short chute in the background):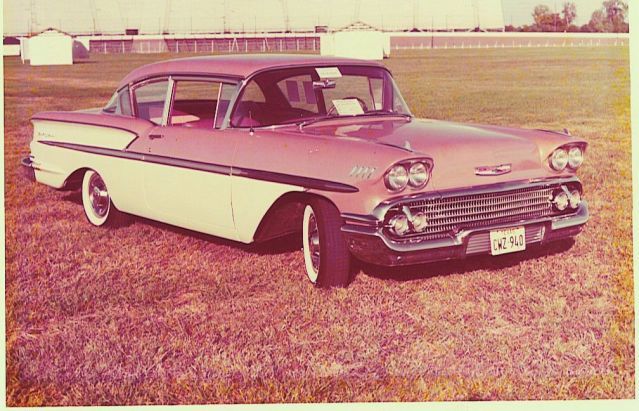 RIP,

Hoosier Auto Show and Swap Meet, Inc.
It was a great run. I, for one, will never forget the many days working and attending the show, and the innumerable friends and memories
-both Studebaker and otherwise-
made doing so.
BP