What's this nonsense?
A plebeian 259 / 2bbl / Flightomatic Daytona Wagonaire beat Ted Harbit's Stude Tomato, Richard Poe's hot rod, big-inch 1964 Screaming Lime Challenger, and a host of other hot Studebakers
fair & square
at the Saturday, May 24, 2014 Studebaker Nationals and Orphan Drags at Brown County Dragway in Bean Blossom Indiana????
Well, it
DID,
so
THERE!

Oh, crap; I 'spose you're gonna want "The Rest of The Story...."

OK, 'here 'tis:
When the event opened, all the Studebakers and Hudsons present, whether or not entered to drag race, were asked to parade down the strip on the return road and then turn around and come back toward the timing tower. The tower is perched high above the track, roughly across the top of the starting line, back a little bit.
So everyone complied. Many people were taking pictures and videos of the maybe 18-car / truck parade up and down the strip.
All the track workers and employees were instructed to stand on the tower
above
the strip, look down at the cars as they passed by, and vote for their favorite among all the people's cars that had shown up. That would kind of be an
"Employee's Choice"
award among all the cars entered. I was not aware that any such thing was going on...and I don't think anyone else was, either.
Well, if you are looking
down
on a parade of cars
passing beneath you,
what is going to catch your eye if there are no convertibles in the parade (and there weren't)?
Right;
a unique
station wagon
with a sliding roof open to the bright sunshine!
So after the parade was over and everyone was getting ready to race, an announcement came over the PA system,
"Bob Palmer [sic] of Brownsburg, Indiana, has won the "Employee's Choice" award with his 1964 Daytona Wagonaire! Bob, please see Richard Poe for your prize!"
(And it was no $1 stuffed parrot from China, I tell you: It was a six-pack of the new
Lucas 10W30 "Hot Rod" Motor Oil
with plenty of Zinc for flat-tappet cams and lifters! Man, that stuff retails for $7-$8 a quart, and here was a six-pack just for showing up!
'Sure covered the $20 cost to get in!)
OK, on with the show and some photos:
Yes, we had two
Hudsons
appear, both 1950 Coupes: Larry Kennedy's red Super Six and his friend Dave's Commodore Six: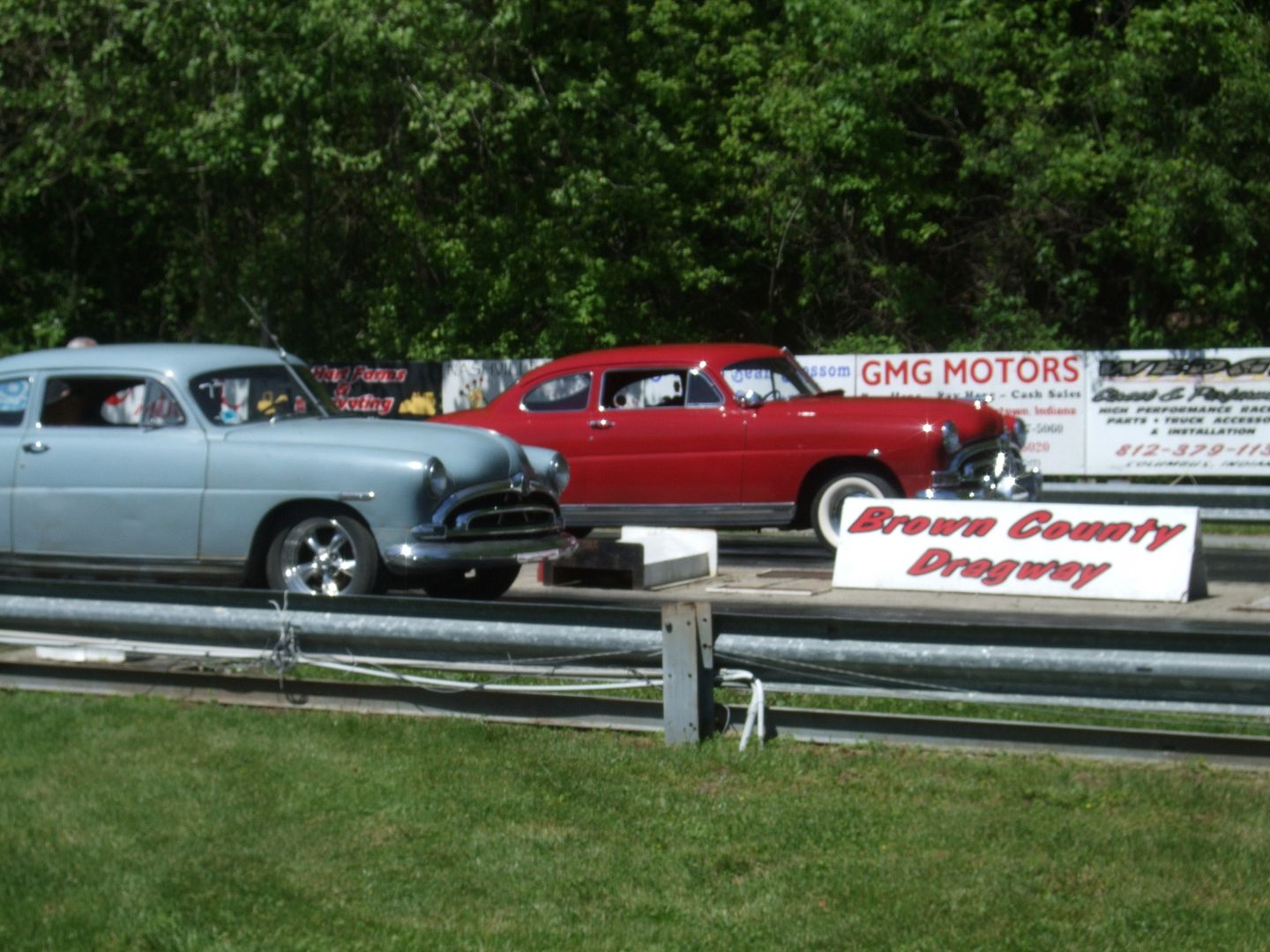 The spectator Studes parked among the competing Studes, friendly bunch that we are:
In this photo is SDCer Larry Main's
1957 Golden Hawk.
Larry bought it
brand new
in 1957, when he was 20 years old, and drove it to the event today. He converted it from Flightomatic to stick overdrive in the 1960s. I wonder how many other Original Owners are still united with a Golden Hawk they bought brand new?
It can't be many.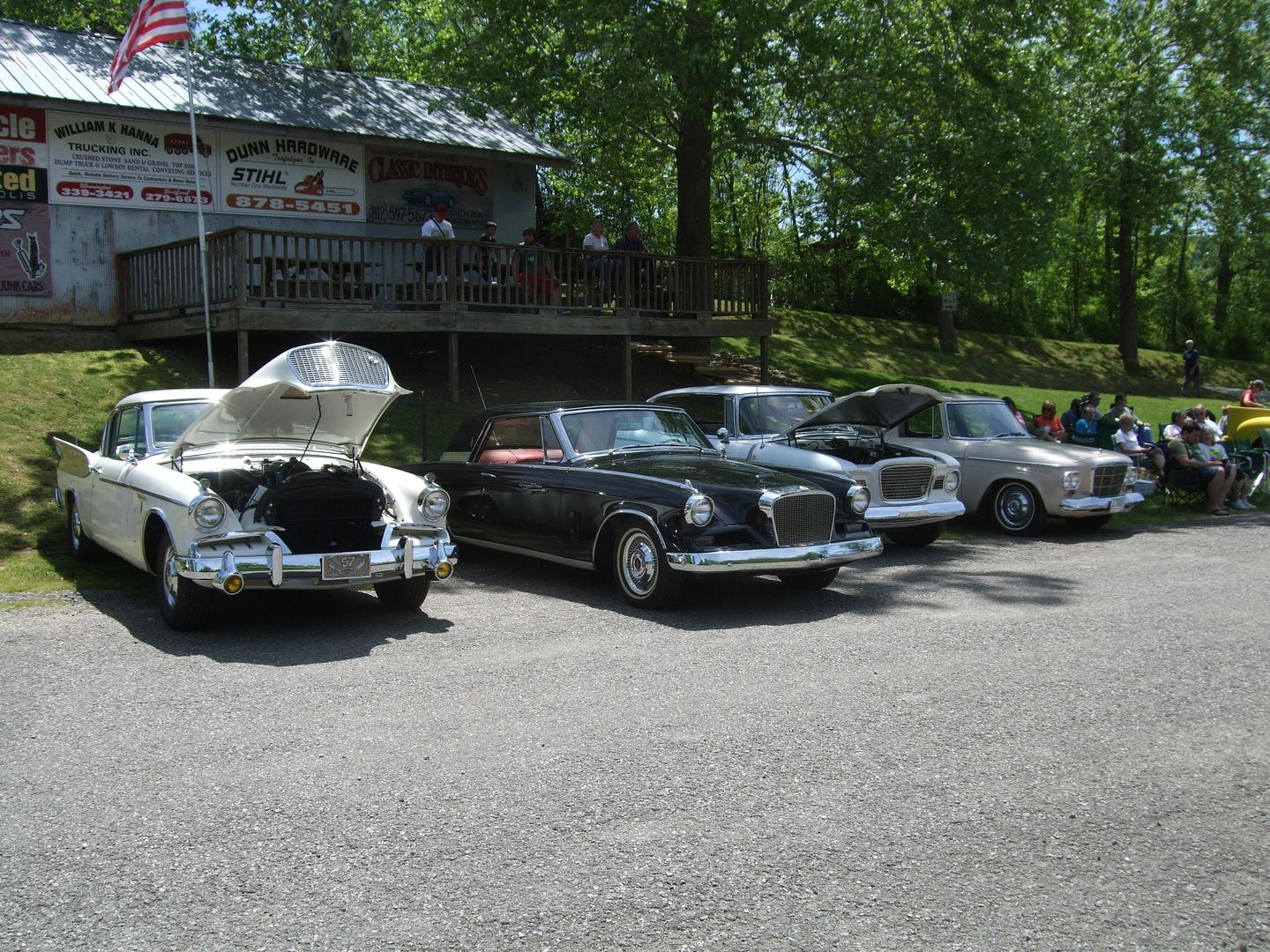 And the first
Superbaker
I'll bet any of us have seen:
When we tell you the unique
Brown County Dragway
has a creek running right under the starting line, we aren't kidding:
Racing underway: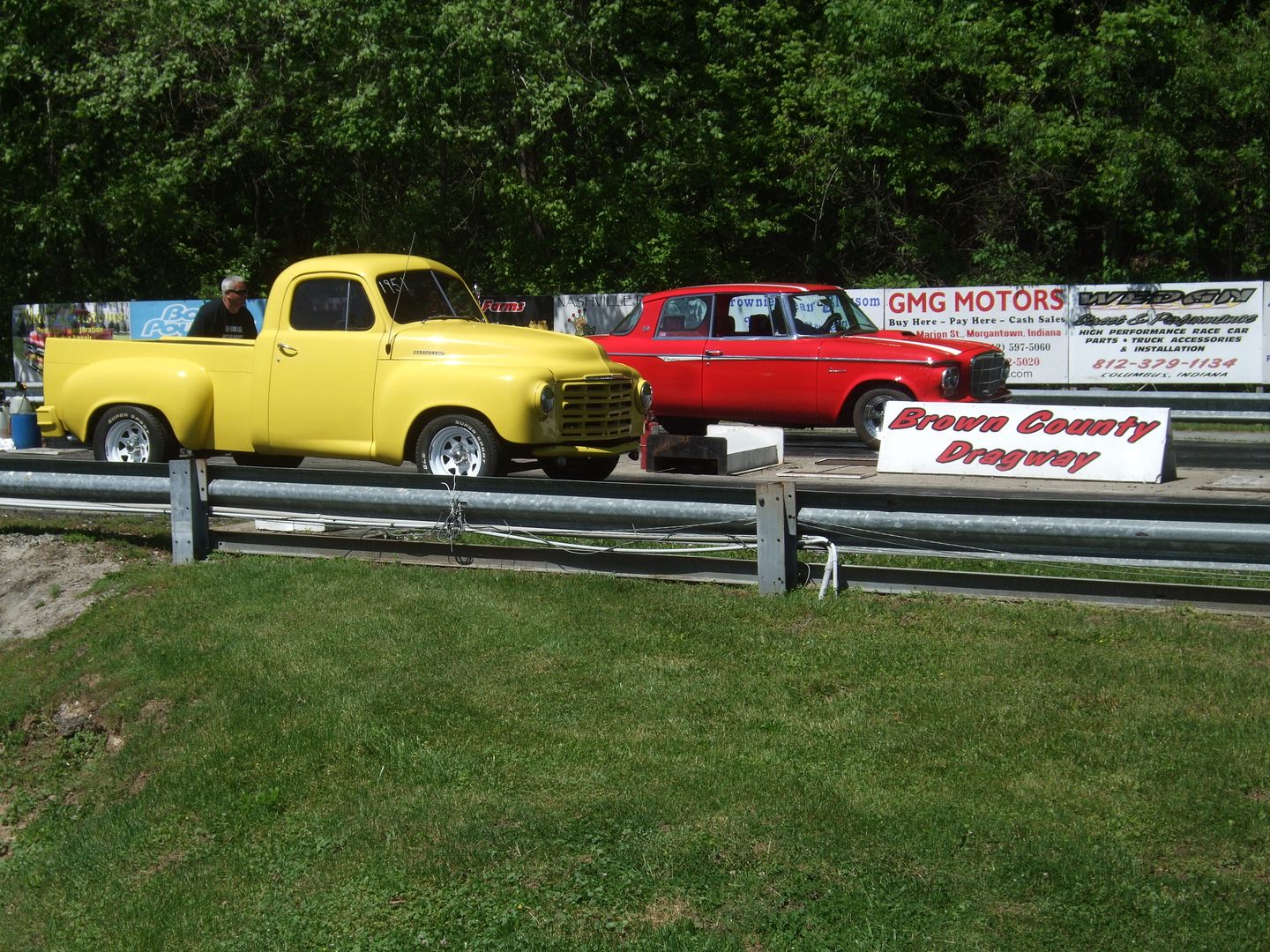 I was fortunate to have "caught" one Ted Harbit (Red Tomato) and one Richard Poe (Screaming Lime Monster) launch "just right,"
nose high
...
woo-hoo: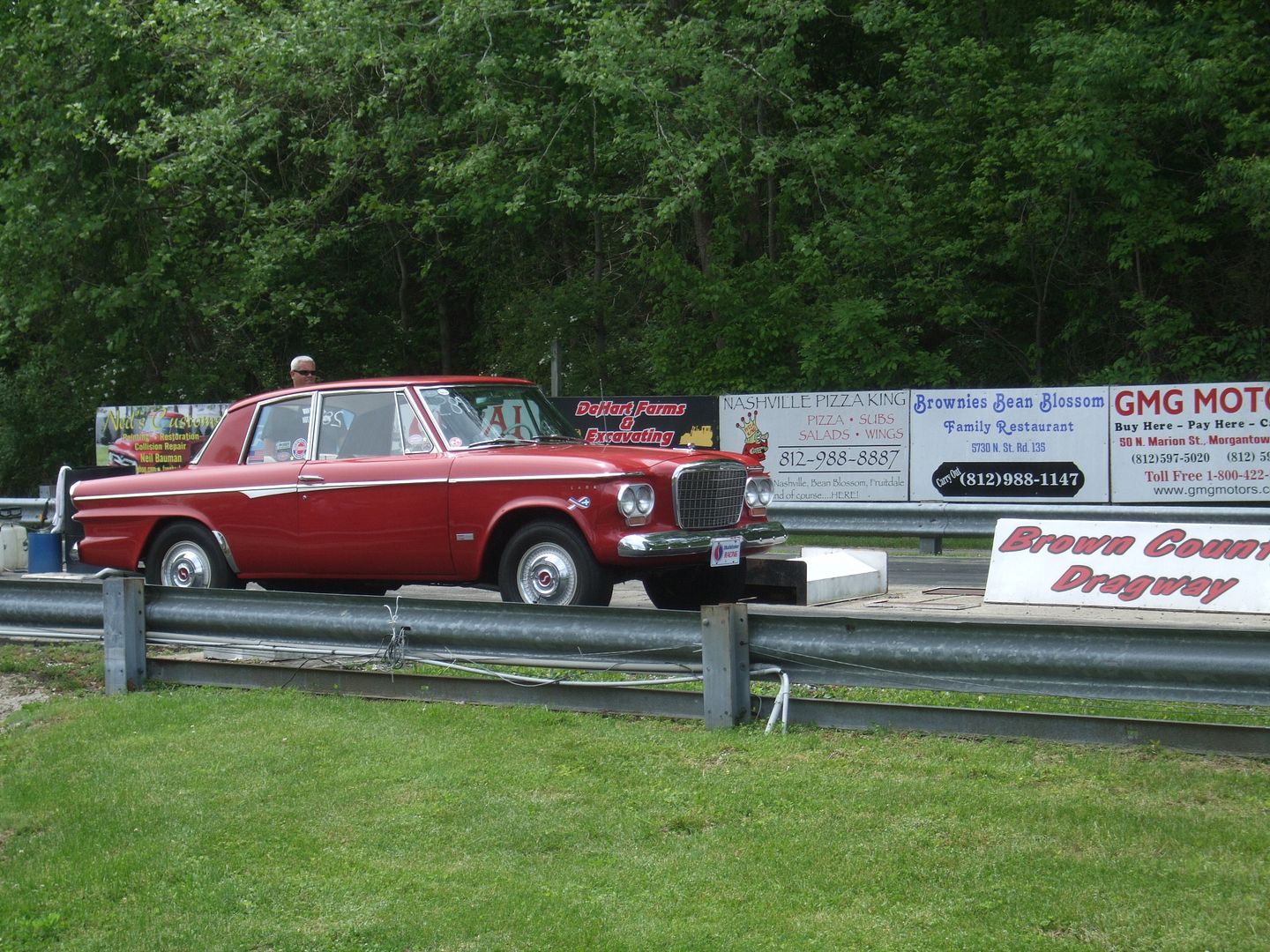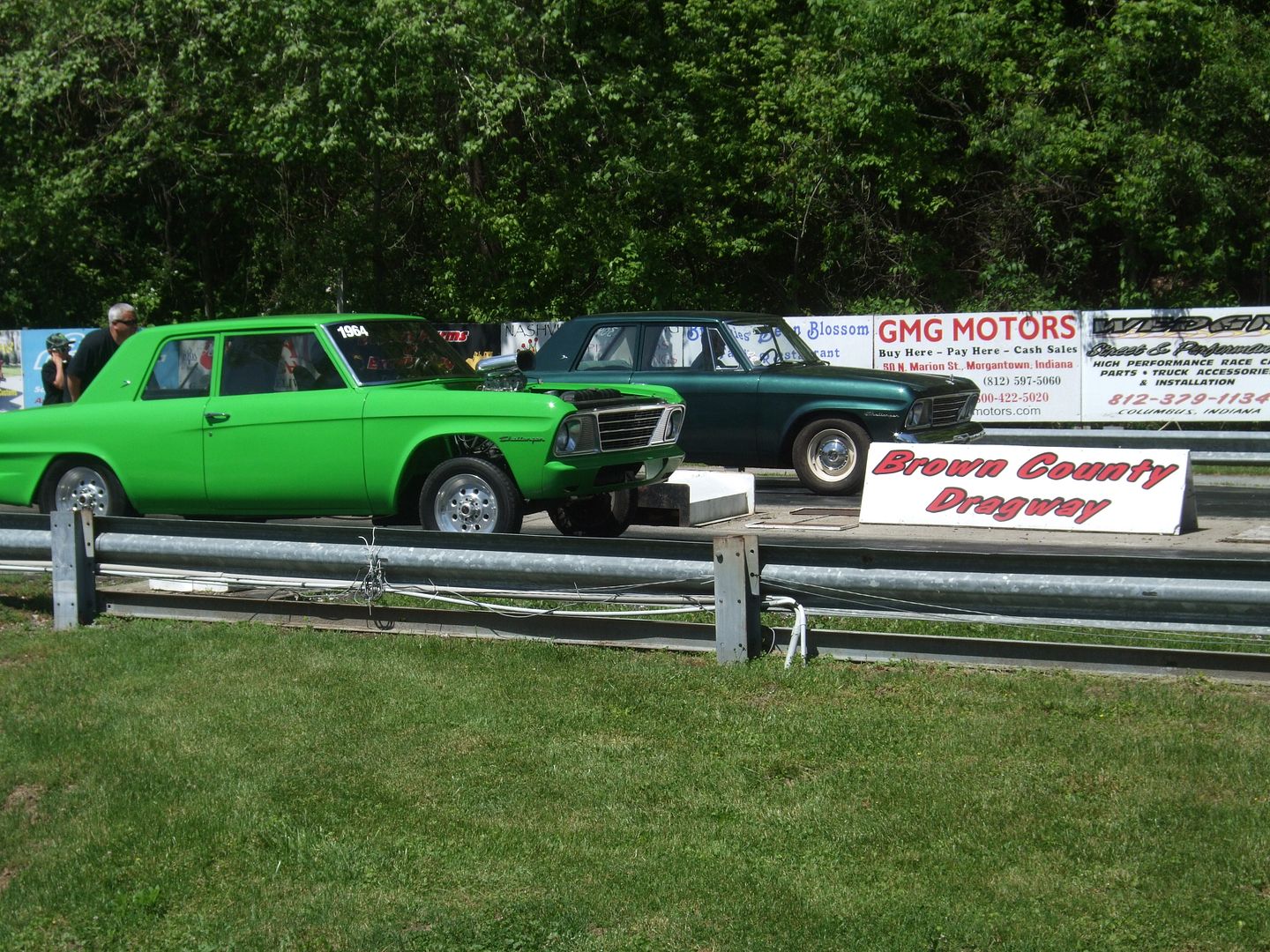 In the above photo, Rich Meadows' Jet Green R4 Challenger clone has taken on Richard, but Richard's car easily won as it probably has darn near 'twice the horsepower of a stock R4.
Overall, a great day, as evidenced by the smiles of John Kern and his wife Mary Jo: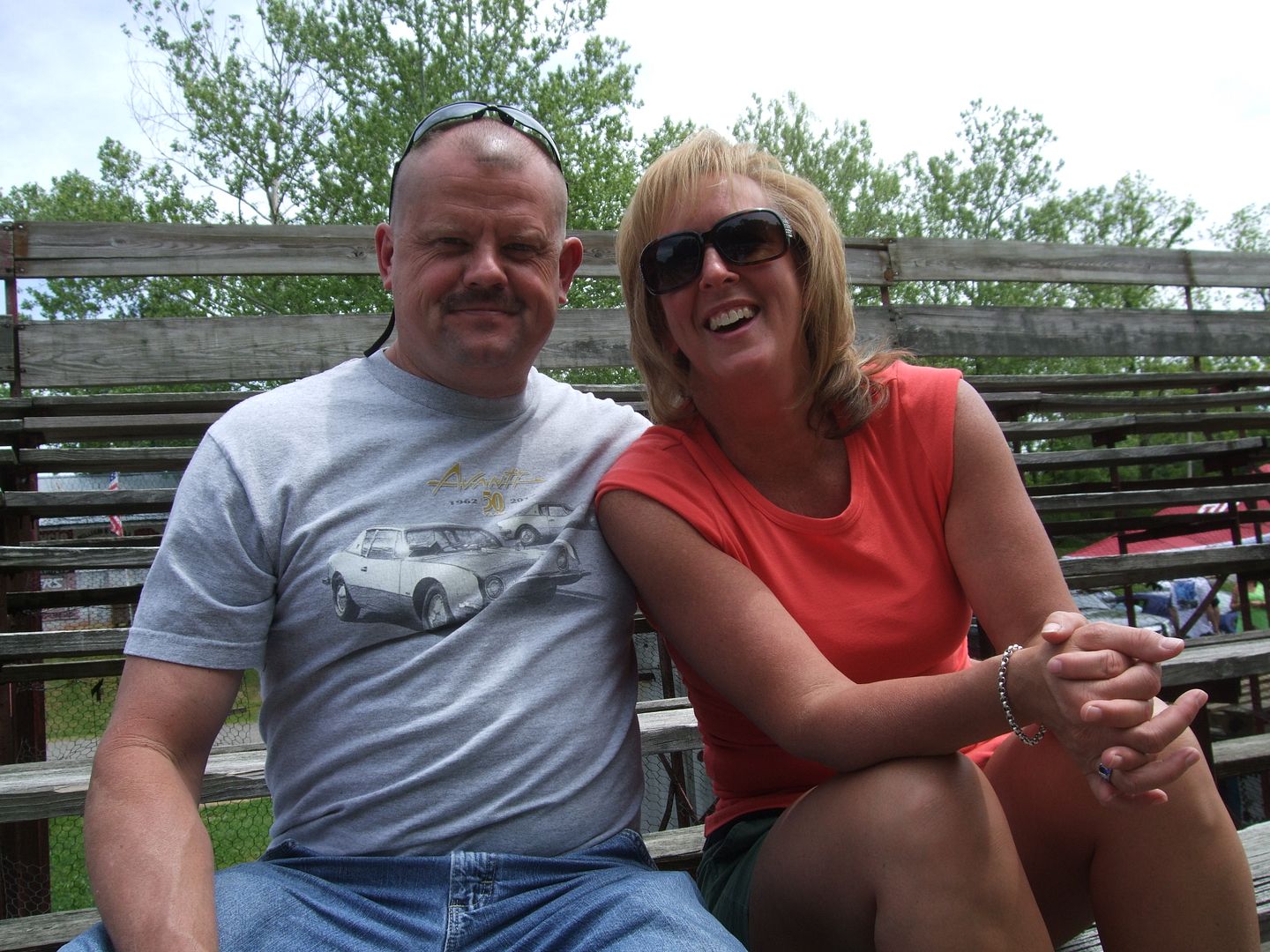 (If you remember, John drove
The Stude Tomato
at
The 2013 Pure Stock Muscle Car Drag Race
faster than Ted has ever driven it when configured as an R2! We don't know if John has
TB,
Tomato Probation,
as a result.
Thou shalt not step on Superman's Cape!
)
This was probably the most hospitable weather ever experienced by Richard and Rose Poe's Event
; balmy and 73 degrees; just right! Richard and Rose again did a wonderful job executing
The Studebaker Nationals and Orphan Drags.
Thanks again ever so much, Richard & Rose; again, well-played...for the
Seventh
Year!
OMG; has it been that long?
BP