I will be coming to York for the first time since 2011 and would like to leave empty handed (a la Jerry Forrester several years ago). My Studebaker parts inventory has been living in my enclosed trailer for at least the past 7 years and I would like to free it up for other uses. I have acquired these parts over the years, some NOS, some used, a few probably junk. A small amount of used sheet metal (Champ doors, '62 trunk lid, etc.), used glass, gauges, stainless, etc. Would be willing to sell as a lot, in bulk, by the piece, but the goal is to have an empty trailer by the end of the weekend. In the alternative, I would sell the trailer with the parts for cash and just buy another trailer when needed when I get home. The goal is for me to have an empty trailer and no parts or no trailer and no parts by mid day on Saturday. I have gone through what is in the trailer in 3 years, so I am unable to tell you what specific parts are there though I suspect a search here on past York meets will bring up a few pictures. There may be a few items in the trailer I will retain for my personal vehicles, but the rest needs to go. If someone was inclined to pay me for the table I lay the parts on they could instantly go into business while there.
I did a search and here is a picture that Dave Arnold (remember him?) took in 2010 that shows some of the parts and the trailer.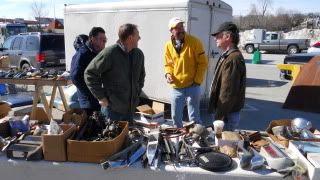 I can be contacted via the Forum or at guidosalvage at yahoo dot com.