Bess (my '56 Parkview wagon) has been a long project in resurrection. She seems to come up with something new all the time. I'm still dealing with the engine mount and related distributor problems along with the chattering clutch. I'll correct all of these when I pull the motor to fix the clutch. Then all I have to do is come up with the money for fenders and shipping...
Still...
I was driving her a few days ago, and noticed that the temp gauge was green. Usually, I start her and it swings all the way over red. The last few days, it's been operating rather more normally. The gas gauge has been also behaving more normally too. It's kinda like she's coming gently, cheerfully, out of a long sleep...[|)]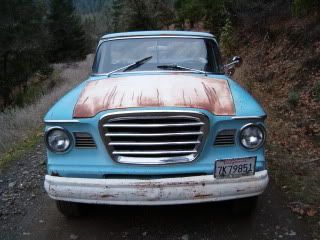 Home of the famous Mr. Ed!
Lotsa Larks!
K.I.S.S. Keep It Simple Studebaker!
Ron Smith
Where the heck is Lewiston, CA?