Got back about 5pm from a Potomac Chapter Fall Tour with travelers from Allegheny Region, Ohio Region, Keystone Region and Potomac. We had optimistically predicted having 20 people when we first started planning this, but we ended up with 54.
The Eastern Contingent started from Boyce, VA (US 340 and US 50)toward our destination, The Inn at Snowshoe (WV), about 160 miles. First bad thing- after nine easy miles we hit a freshly tarred and graveled road (five-mile stretch)[xx(][xx(]. However, after an hour and a half of gorgeous scenery and a terrific lunch at Oneill's in Moorefield, WV, spirits were improved. Unfortunately, about 20 miles later in Petersburg, WV, the oldest car in the parade, a pristine '50 Champion developed a fuel problem that couldn't be fixed along the road. They got roll-backed at the way back home (about 150 miles), but even after waiting five hours for the tow truck, they got back in their Brand C and drove to the hotel arriving at 2am.
(Added by edit) Forgot to mention that after leaving Petersburg we stopped at Smoke Hole Caverns and got a great tour. I'm not much for tacky tourist attractions (and this looked like one), but was a truly interesting well-presented tour. Leaving Smoke Hole we trucked on getting (end edit) to the hotel past our happy hour time, but after dinner we changed it to a happy evening. Potomac Chapter furnished the live music with our Darrell Carr and his guitar and Allegheny's Jim and Kay Dowdy furnished the libations- a case of their EXCELLENT home-made wine.
Saturday morning we sleepily lined up to caravan up to Snowshoe Village, elevation 4800 feet).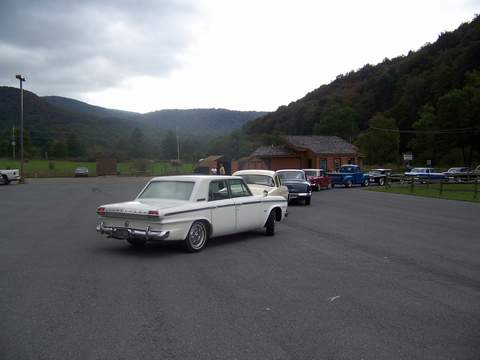 Studes all made the climb with no sweat. Here are a few of the cars in the parking lot at the Village (Snowshoe is a major ski resort).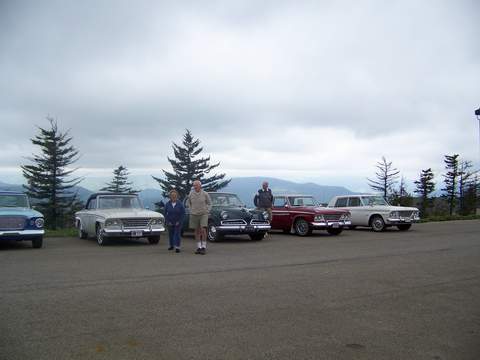 After shopping/eating/riding a 3850-foot long chair lift at Snowshoe we headed down the mountain toward Green Bank, WV, site of the National Radio Astronomy Observatory. Here we saw the largest steerable radio telescope in the world, 100 x 110 meters of surface (2.3 acres), 485 feet tall. Digital camera weren't allowed on the tour due to stray interference they can transmit- fascinating place with a great, almost Sci-Fi Visitor Center/Science Hall.
From NRAO we drove about 10 miles back to the Cass Scenic Railroad State Park where they run restored Shay locomotives pulling the original logging cars up the mountain. These are extremely powerful machines capable of climbing 11% grades. They were used in the early 1900s to haul timber out of the mountains to a railhead in the valley at Cass, WV.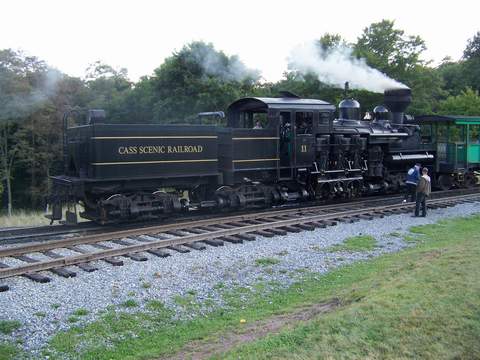 Their engines are much different from the typical locomotive in that they have vertical pistons turning a very long crankshaft that is geared to each set of wheels, even those on the tender. We rode the "Fiddle and Vittles" train to an old logging camp at nearly 3300 feet where we had a catered barbeque and bluegrass entertainment. These engines aren't very fuel efficient- used 1500 pounds of coal and 1200 gallons of water in the roughly four-mile trip.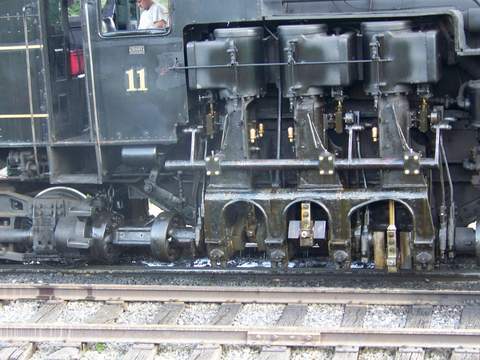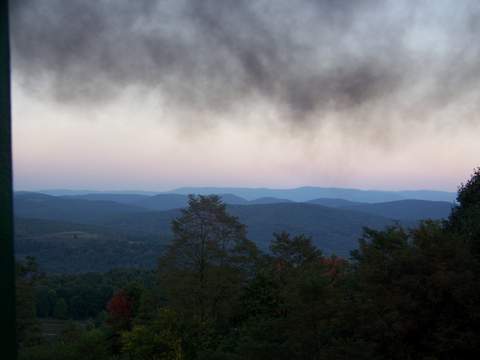 While everyone was tired, Dowdy's still had some wine and the guitar was still working so...[8D]
This morning after breakfast the western contingent went their way and we started for home with a stop at Seneca Rocks, a spectacular rock formation, one of the premier rock-climbs in the Eastern US. Here is part of our group with the rocks behind us. Some of the others were wandering around when the shot was made.
[img]http://www.frontiernet.net/~thejohnsons/SDC%20Pix/Copy%20of%20misc%209-20-23%201