Jim Turner
advertised in his Stove Huggers topic saluting Veterans on Veterans Day, that Studebaker convertibles would be the sole transportation for
The Indy Honor Flight Unit
in the
2013 Indianapolis Veterans Day Parade,
as they were last year.
To that end, Jim recruited four additional Indy Chapter SDC Members to provide Studebaker convertibles for the event. Weather for this year's parade did not promise to be as pleasant as last year; we knew it would be chilly and overcast, with a threat of rain. Jim assured us he would be bringing his 1952 Commander State convertible, top down, so he would be sharing the pain if the weather was inclement. Yessir,
all for one and one for all; we're all in this together! What a guy!


Well, if you know Jim, he wants to be
Dictator...
and today at least proved he would be a good
politician
...you know,
do as I say, not do as I do.
After
all four buddies showed up in their Studebaker convertibles with blankets, heavy coats, a case of gas-line anti-freeze and another of windshield / lock de-icer to divvy up among themselves, and scrapers to chip ice from inside their windshields should the occasion arise, who arrives last to the party but The Great Organizer
Jim Turner
himself, toasty warm in his tight, secure, enclosed:
....tendering some lame excuse about his '52 Commander Convertible having mysteriously developed
starter trouble,
rendering it unavailable for parade duty today. When one of the guys actually believed that story, Jim tried to sell him the Brooklyn Bridge!
Once the laughter and guffaws subsided, we got on with the day's happy "work," escorting World War II Veterans who had taken one of the three-to-date
Indy Honor Flights
to Washington DC. This brave soul held the banner leading the unit. (He had help when the parade stepped off):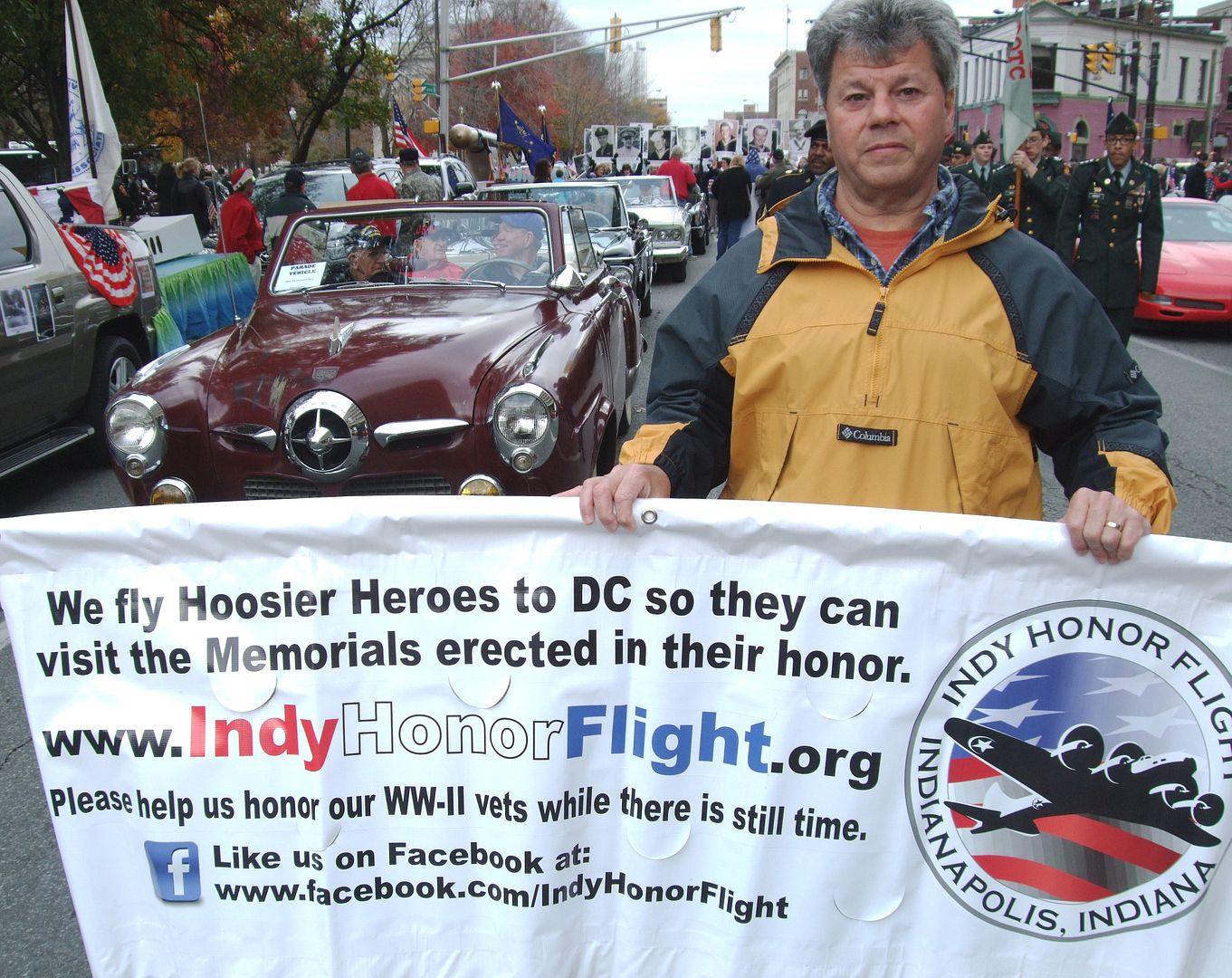 The staging area was packed: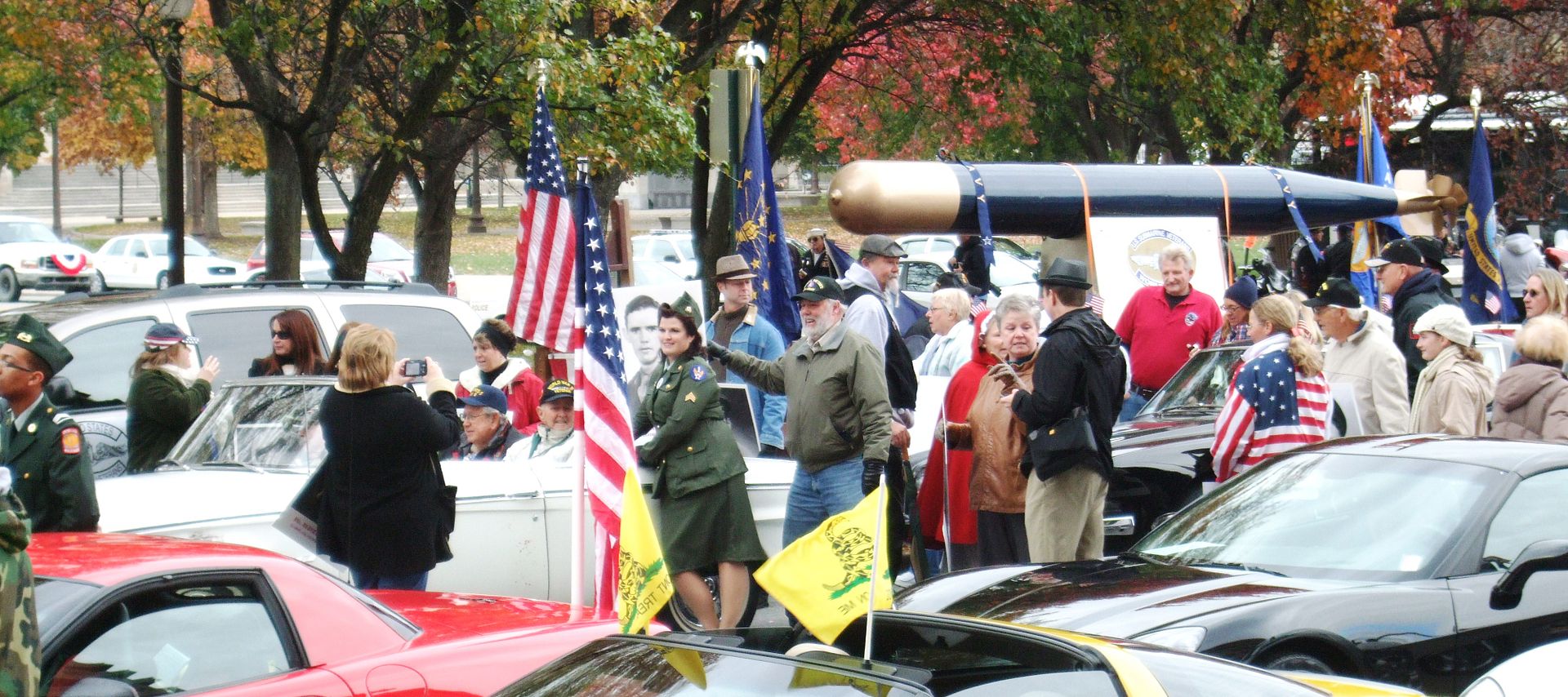 You can see Jim Turner far back in the

red shirt

in the above photo. He stood near the armament on the theory that we wouldn't harrass him too much about having a warm car, lest he detonate the device.
Bringing up the rear of the unit were individual volunteer marchers carrying large posters of persons who had gone on an Indy Honor Flight, but were unable to attend the parade: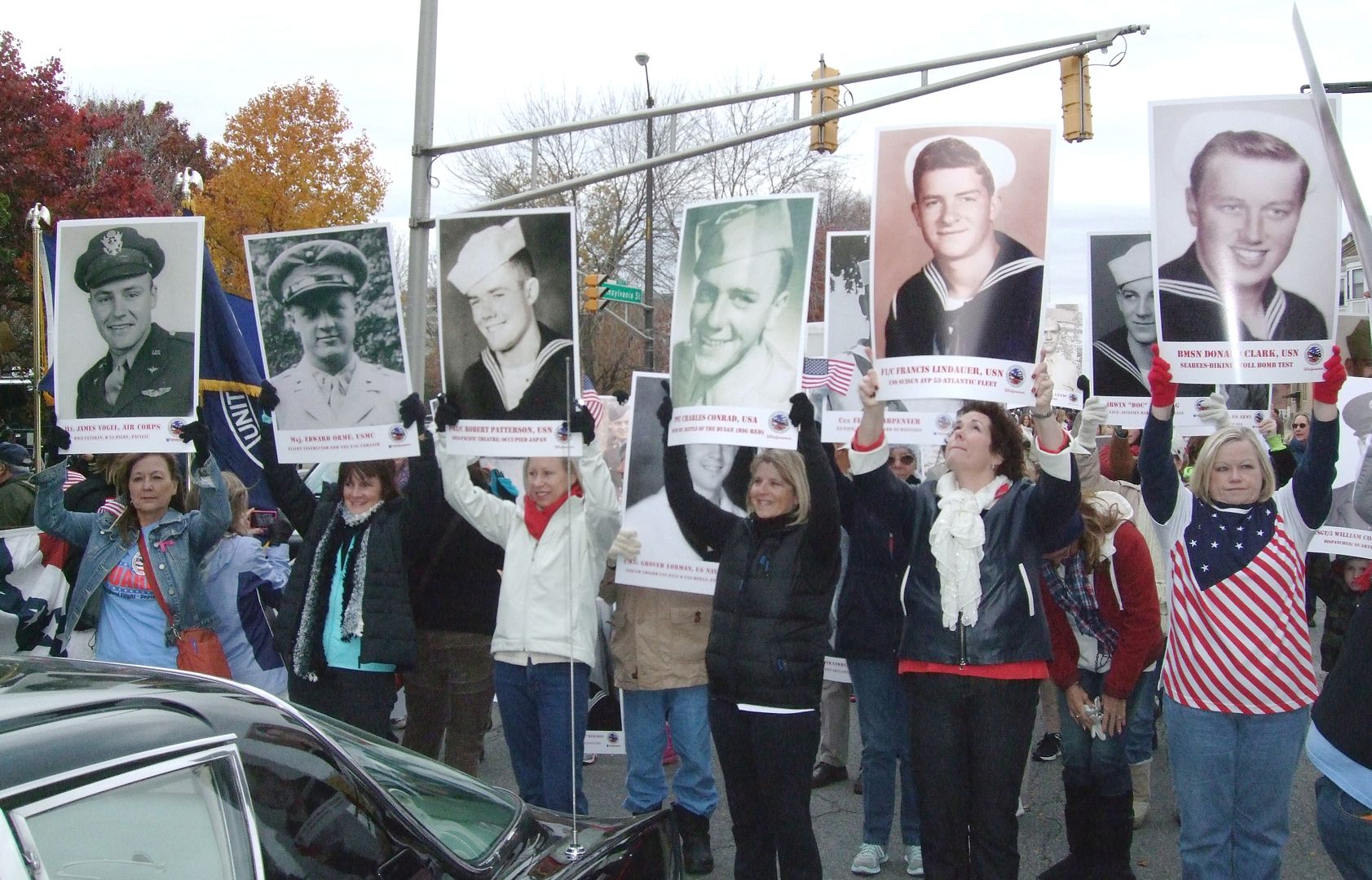 Individual Studebaker convertibles in the parade included the following, in order.

First unit was Bob Fox
in his pretty red 1960 Lark VI convertible with Flightomatic: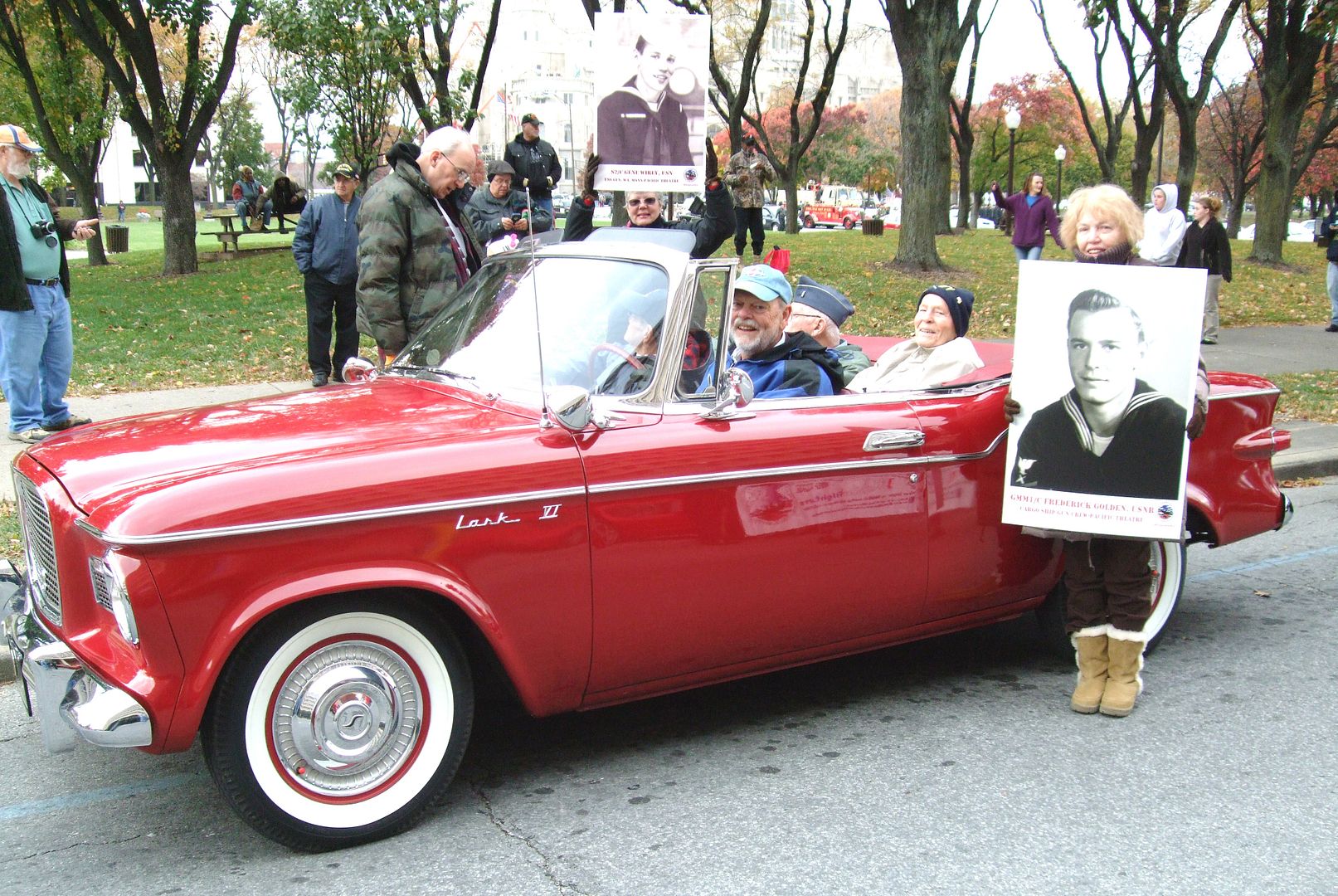 If you think a 1960 Lark VI convertible with Flightomatic was the slowest Studebaker in the parade, you would be wrong!
That honor belongs to Lanny Bertram in his virtually all-original (yes, paint and top!) 1950 Champion Convertible with Automatic Drive: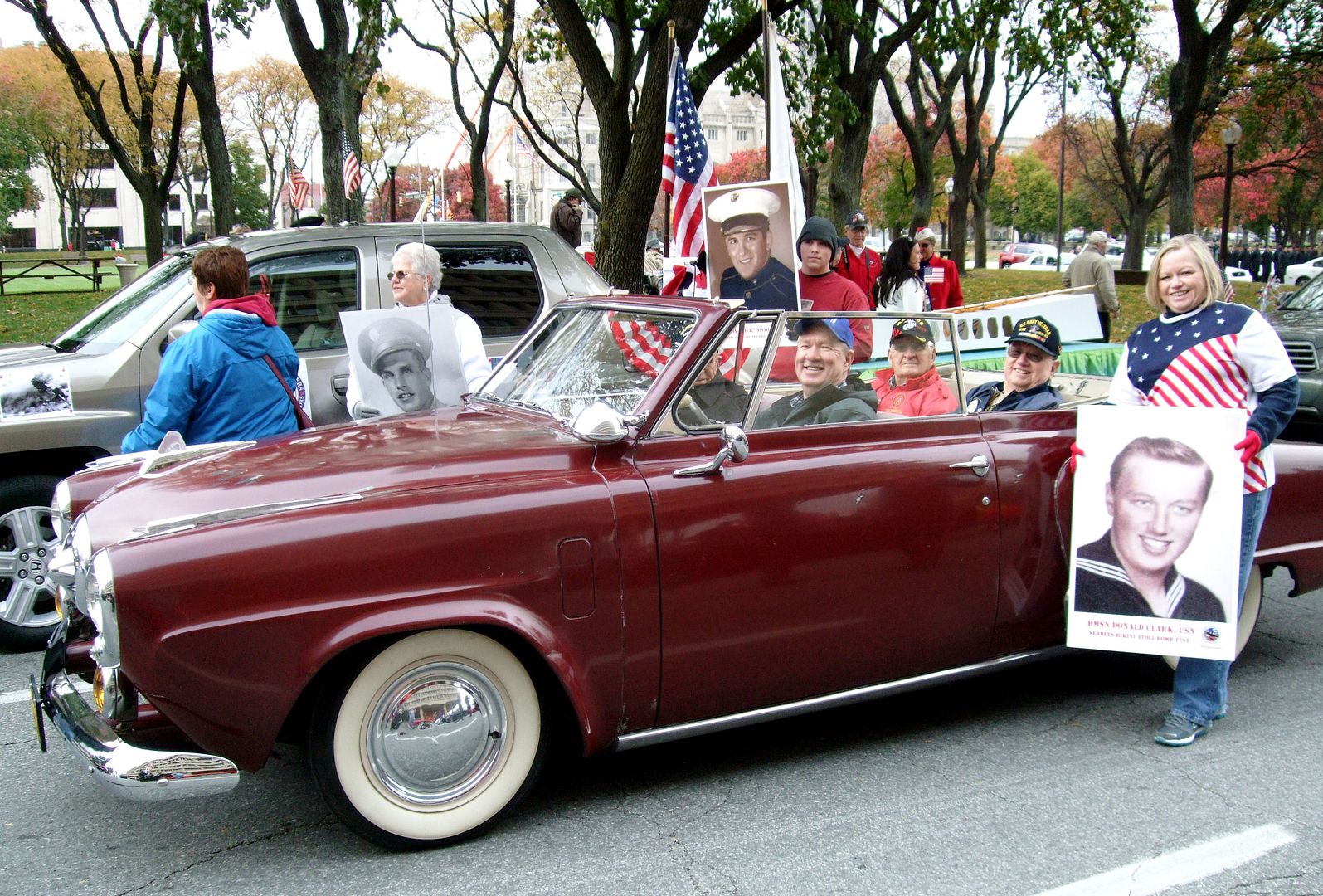 Lanny reports it is easy to drive that '50 in parades...when it is loaded down with passengers, he just puts it in gear and floors it! He says it keeps right up with everybody in the parade that way.
(Seriously, Lanny owns two Studebakers. His other one is a 1963 Lark Custom 2-door with a warmer-than-stock R2 and 4-speed! Those are the only two Studebakers he owns. Can you imagine owning two Studebakers so different in their ability to accelerate? I'll bet he has to be real careful moving the Lark around in the garage after he has driven the Champion for awhile!
)


Next in the parade was Howe Clark and his pretty black 1962 Daytona convertible.
It's a 4-speed. I don't envy Howe, driving a 4-speed in a parade: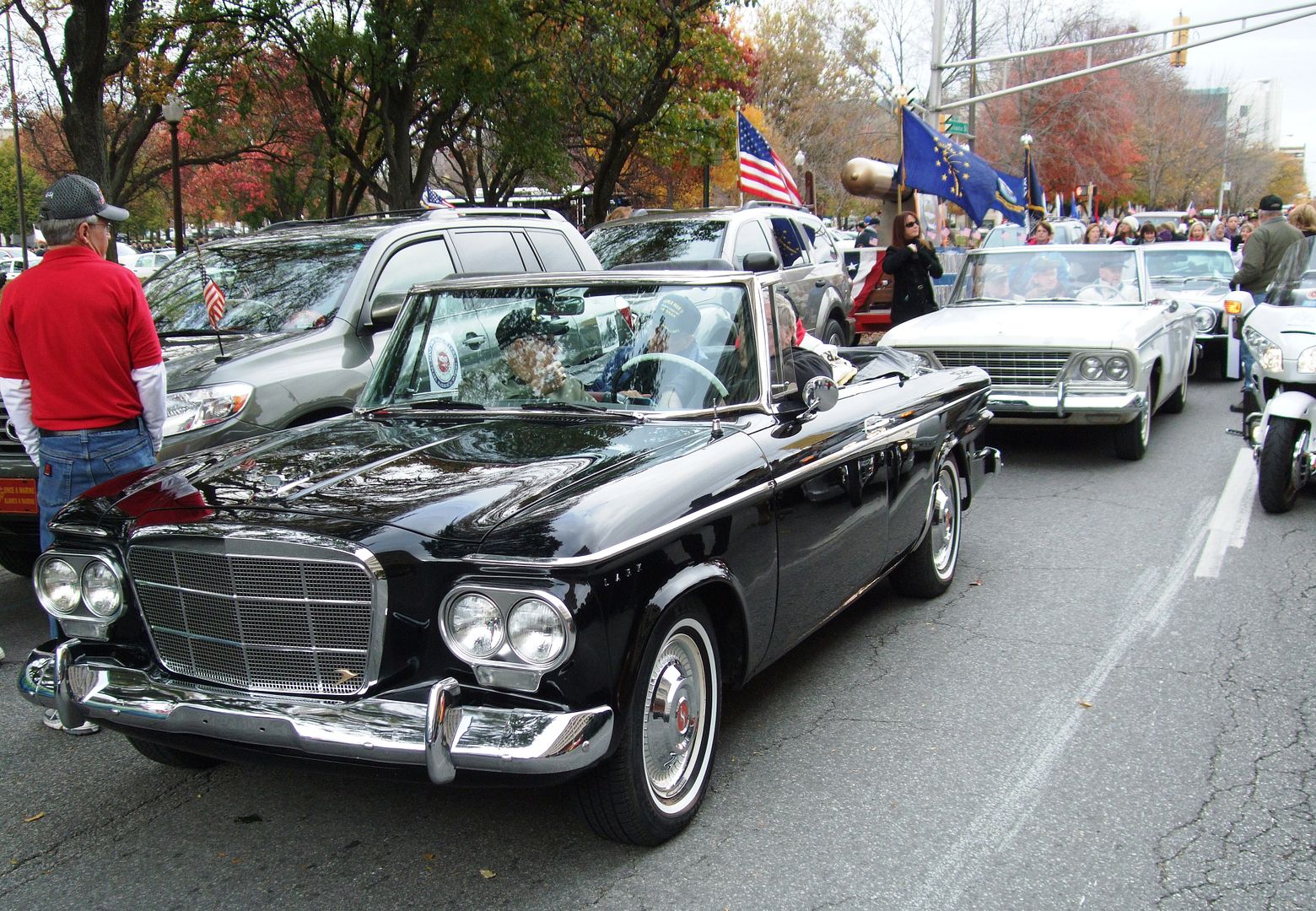 After Howe was yours truly in my 1964 Daytona Convertible. It's little 180 HP 259 with Flightomatic just loves parades; idles smooth the whole way and never misses a lick. (It doesn't hurt to have one of Phil Harris' modified MoPar high performance fuel pumps on it, either. It used to try to vapor lock on occasion, but nary a burp since I installed one of Phil's big MoPar pumps):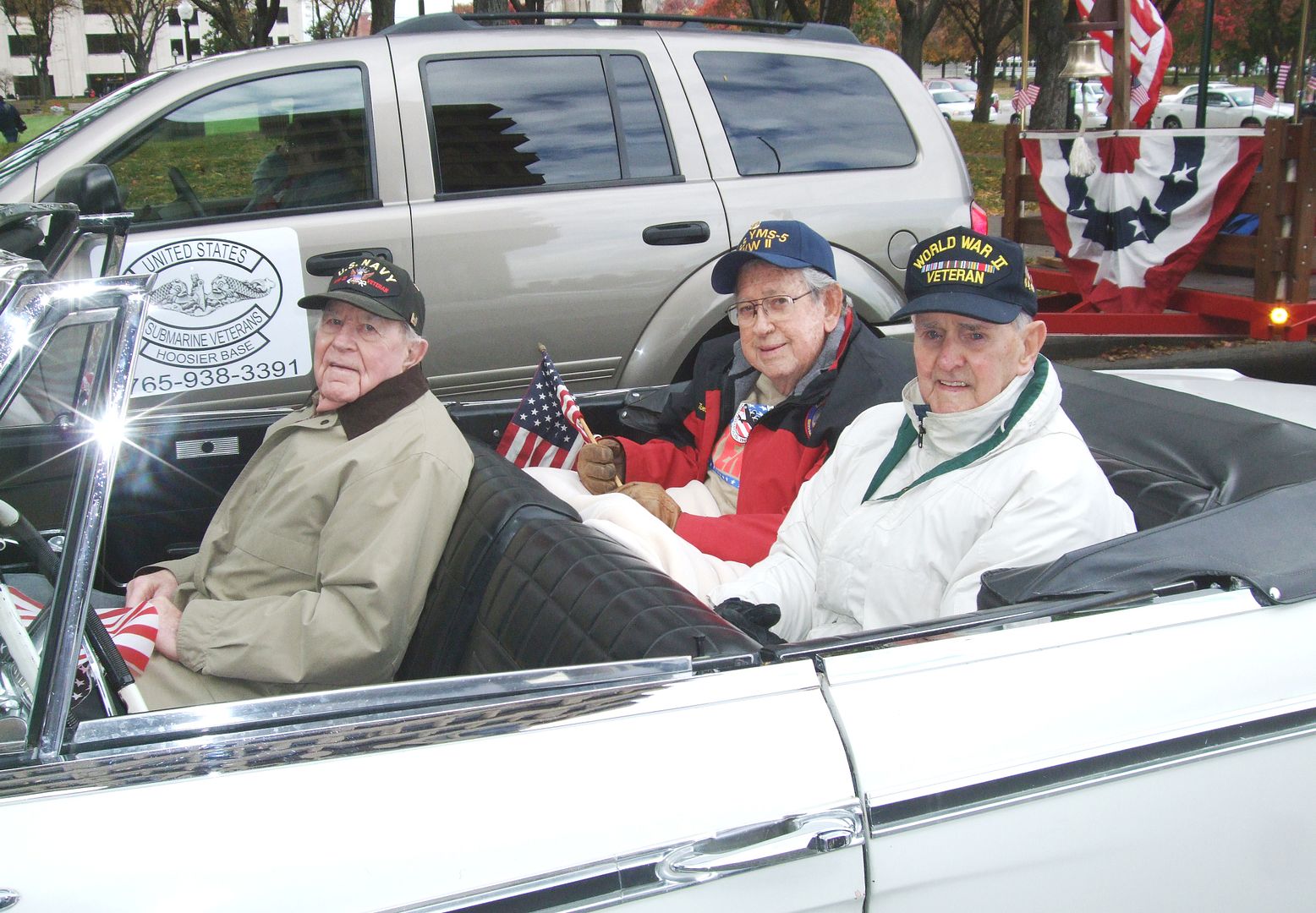 Volunteers carried large posters of each veteran alongside the car in which they were riding.
Here's a photo of one of the Veterans riding with me, with his WWII Service Photo that will be carried beside the car during the parade by the lady holding it, known as his Guardian: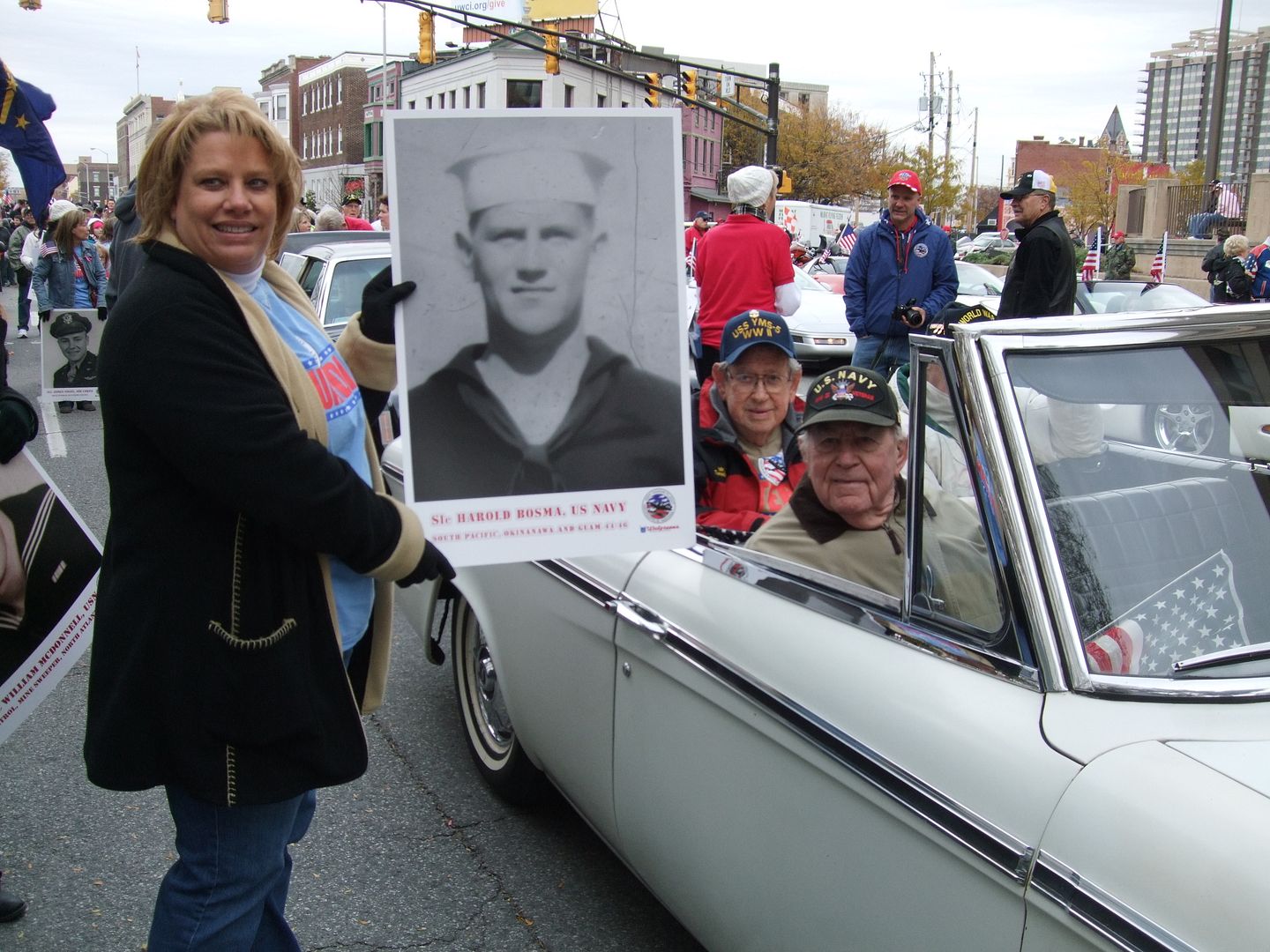 And another photo, this one with all three posters of all three Veterans: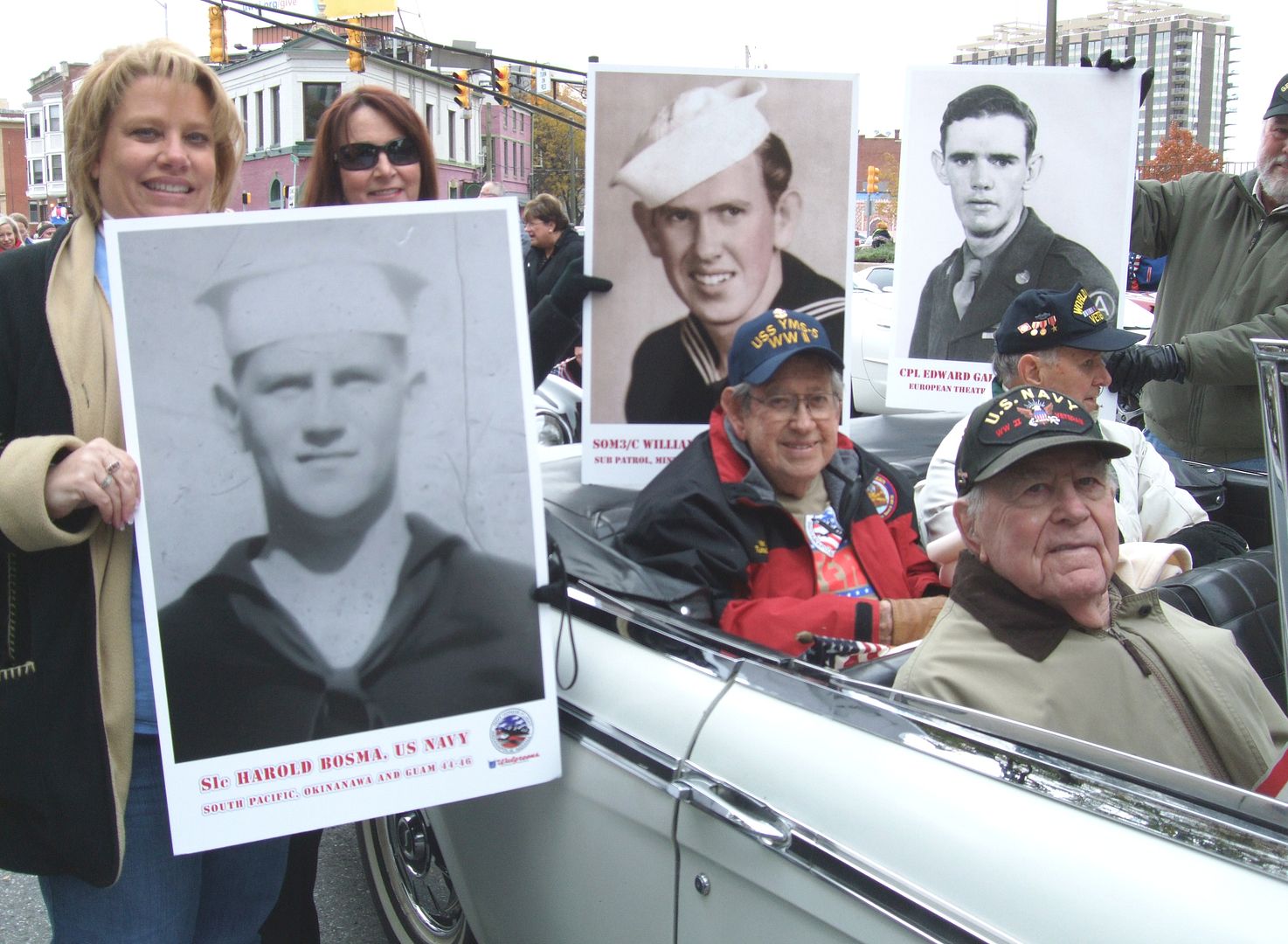 Overall, it was a great day. We dodged the rain bullet; it started raining a couple hours after the parade ended. We had a fright about twenty minutes before the parade stepped off, however; a distinct, modest drizzle that lasted a couple minutes and then thankfully quit.
No precipitation whatsoever once the parade stepped off, although it remained chilly and overcast. We had blankets for each Veteran in the convertibles...although, of course, the Veteran riding with Jim Turner was toasty warm in an enclosed car with the heater blasting away.
As for Jim Turner, all in good fun among friends....
well, as soon as our extremities thaw!
(I now have a comeback when he posts a snide remark about used car dealers; I can question
what kind of fellow would set up his buddies for severe frostbite and then show up in an enclosed car?)
BP