Bob's copy from the Racing Studebaker's Site.
Re: 2013 PSMCDR Info
by
Bob PalmaMonday morning, September 16, 2013.
I've put together a few photos and have some preliminary figures from the 2013 Pure Stock Muscle Car Drag Race.
At this time, I'm able to supply the best performance of each car during the all-day Friday and Saturday morning practice sessions.
I did not attempt to record the times and speeds during the shootouts
because those will be in the Official Results I'll get in a few weeks, from which to prepare the annual report on the event for
Turning Wheels.

Rather, I wanted to go to the extreme end of the track, near the finish line, to capture a few photos of the cars in the shootouts, since that is where the Studebakers are normally ahead!


Anyone who has ever photographed cars at speed knows it is difficult if you don't know what you are doing, but I gave it a good enough shot that we'll have some neat pictures to show.
In no particular order:
First up is the newest car at the event,
Dave Warren's
1955 Commander hardtop, 259 Power Kit / Automatic Drive. Dave didn't come to set the world on fire, but he did warm things up with a best of 18.046 @ 76.34 MPH during practice. Dave's car is the first 1955 model year car of
any
make to ever compete in the 19 years the event has run, and the only 6-volt car to ever compete.
Now that is some serious trivia!
Good going, Dave: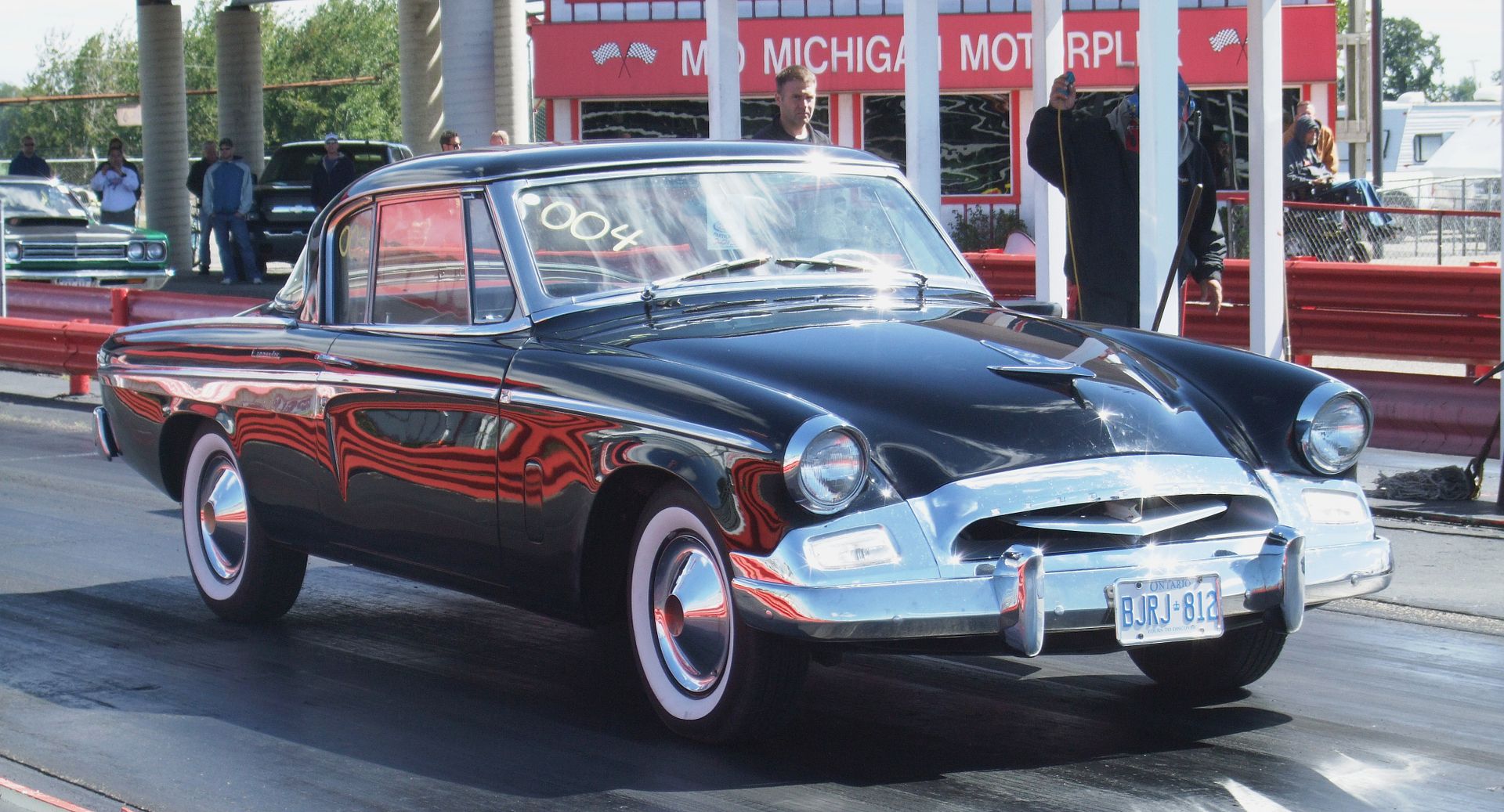 Brothers
Nemish
and
Depish Solanki
finally got Nemish' gorgeous Avanti Red R3, 4-speed Avanti to the event. They won their shootout against one of the best and most experienced PSMCDR competitors, Roberta Vasilow. Roberta beat Nemish in Shootout Round One, but Nemish came back strong to win Rounds 2 and 3 and, thus, the shootout. Here they are in one of Nemish' victory rounds, about 100 feet from the finish line with Nemish pulling strong:
('Give me some slack on the photography, please; both cars were doing about 100 MPH when the above photo was snapped!) Nemish posted a best of 13.122 and 111.91 during practice.
Peter Sant
returned with his pretty maroonish 1963 R2 Avanti. He drives it to the event, so he has elected to run 3.07 rear gears in the drags! Remarkably, he still turned a best of 14.100 and 100.01 during practice, but I believe he did a hair better during the shootouts. He won his shootout by winning Rounds 2 and 3 against a 1965 Catalina 2+2 421.
The Stude Tomato
did admirably regardless of driver!
Ted Harbit
brought the car and practiced and qualified with a 13.051 and 111.99 best during practice. But since The Tomato and The Plain Brown Wrapper were so close together in the shootout pairings, it was impossible for Ted to drive both cars in the shootouts.
"No problem," as Team Studebaker had an ace lurking in the hole in the form of youngster (hey, he's
only
49!)
John Kern
. John took a short tutorial and then whacked off a best of 13.056 and 110.48 during two practice runs Saturday morning before the shootouts. John lost Round One of the shootouts fair & square against Steve Hodges' gorgeous red 1964 Plymouth Sport Fury 426 max wedge. John was so determined to win Round Two he kept the pedal to the metal even though he was ahead and broke out, posting an astonishing
12.740,
the best time The Tomato has ever turned at the event!
Too astonishing, actually, since Ted had qualified the car at 13.051. That meant it could run as fast as 12.751 in the shootouts
but no faster
or it would "confess" to having sandbagged during qualifications Friday. Because John broke out, The Tomato automatically lost the shootout to Steve. What a way to go, though, being
too fast!
Congrats, John.
Here, John pushes The Tomato over 100 mph about 150 feet from the finish line in Round Two, well ahead of Steve's 426 MoPar:
Ted Harbit
qualified
The Plain Brown Wrapper
at 12.690 and a best of 111.74 MPH during practice and qualifications. It did a little better but did not break out during the shootouts, posting a best of 12.617, the car's all-time low anywhere as to ET. In so doing, he beat Owen Simpson's 1970 Yenko Nova LT-1 in all three rounds. Here they are maybe 150 feet from the finish line in one round, with Ted and the R3 pulling hard: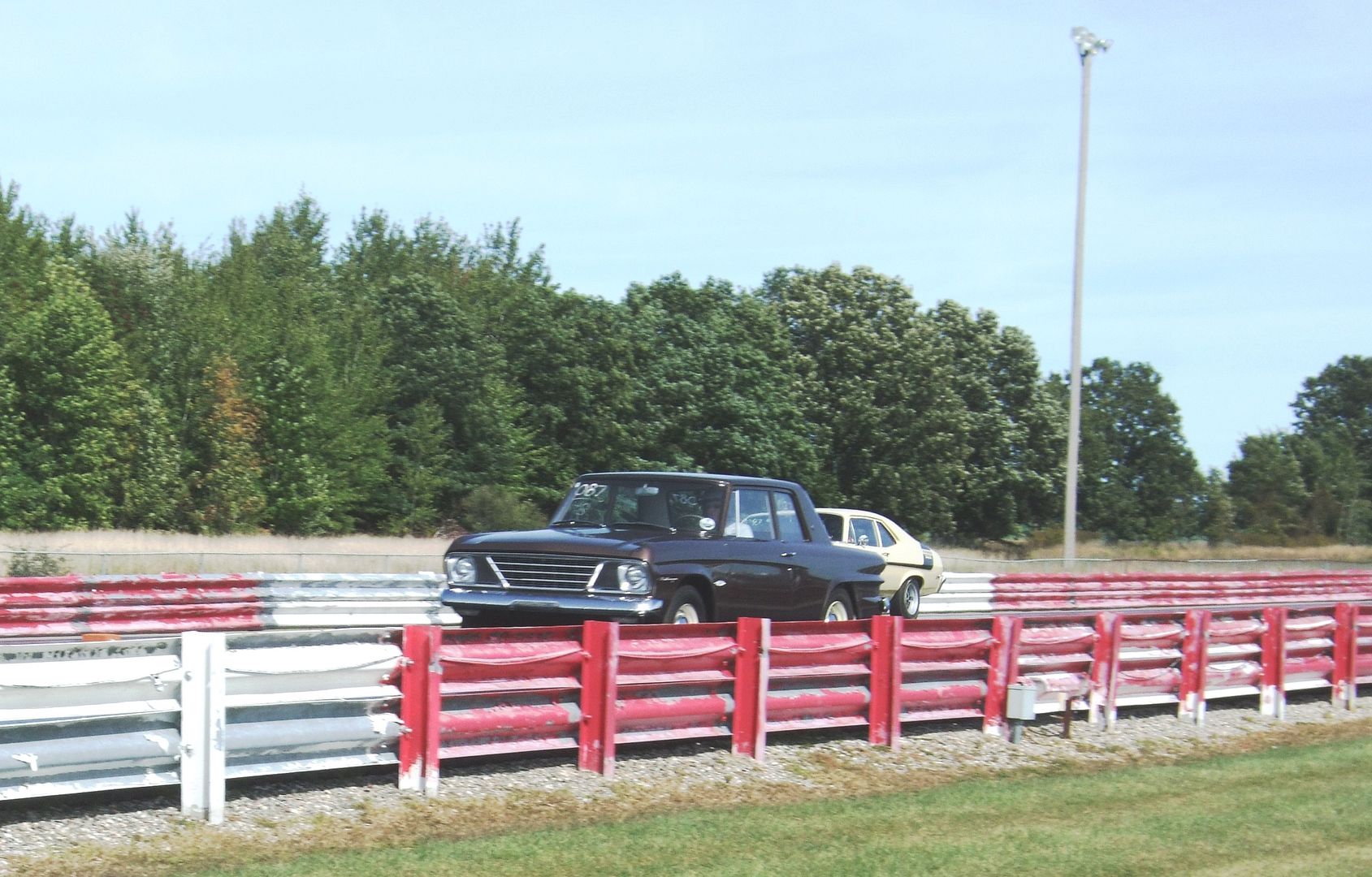 Steve Doerschlag
brought his fastest car this year, The Silver Streak, his 1964 Challenger R3 clone. He did a best of 13.175 and 108.06 MPH during practice and qualifications; his best-ever figures at this event the three years he has brought it. Sadly, he lost his shootout by losing Rounds 1 and 3 outright, and red-lighting Round #2.
Allen Anderson
returned his 1964 R2 Super Hawk with a vengeance, posting a best of 14.654 and 94.83 MPH, both his best figures ever here with the car. He drew a 1971 Ford Torino 351 / 285 HP for the shootouts and lost Round One outright. But he came back to win Rounds 2 and 3 outright and, thus, his shootout. 'Way to go, Allen!
Here, Allen and the R2 pull ahead of the Torino in Round Two, again, about 150 feet from the end of the quarter:
Overall, this was a wonderful year. Gorgeous weather after the chilly overcast cleared Friday morning.
(It was so cold early Friday morning The Stude Tomato wouldn't start because it didn't have enough choke...'had to pop the carb bonnet and give it some manual choke to get it to light!)
More details and photos in the annual
Turning Wheels
report, of course. Again, do not take the above figures to be the best any car did this year. Most did better during the shootouts, and those official figures will be in
Turning Wheels.

BP
Bob Palma
Technical Editor
Turning Wheels
Thanks for posting this Bob on the Racing Studebaker site.
Allen