quote:
Originally posted by black56hawk
Ken, I thought of you when I was looking at that black Hawk with the Chrysler wire wheels, too bad I didn't recognize you without your car.
I live in Tallahassee, my wife and I wanted to get away from Tallahassee's oppressive August heat/humidity for a while, so we are camping in the NC mountains for a few days, stopped by the Tri-State meet for a few hours. We'll attend the South Georgia chapter meeting this Saturday on the way home. (Love being retired!)
I didn't take many pics, mostly some detail pics of the 63 Daytona conv and the 57 Hawk for my own future reference. But here's a couple.
The red interior in the black Hawk is factory original, according to the owner.
I took this picture from our campground.
Curtis French
63 Daytona conv., 3spd, OD
56 Golden Hawk, 3spd, OD
Curtis,
I was the only one there with a forum t shirt on.
1961 Hawk 4BC,4-SPEED,TT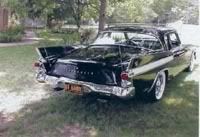 Lewisville,NC