Just want to say good bye for a while, as I take a
time out from the World of Studebaker, as we know it
to be. Who would have thought, not me, that I would
have 712 posts from the 1st post on Oct 14 2005, when
I asked about finding a VIN# for my 1953 Champion, that
Mr. B. so graciously answered....turned out, that, as he
knew, it was the casting # on the engine block.
You may see a familar face, on eBay, in the next few
days, a decision that did not come lightly, I will not
be the listing agent.
Again my thanks to Bob Shaw, Mr. Biggs, Anne Goodman,
Leonard, Bob Palma and others.
I leave you with this,taken from this forum, which
I have tried to adhere to most of the time and have
regreted when I didn't:
"Feel free to discuss all things Studebaker here.
Don't go off-topic, no profanity, and be respectful of
other SDC members and all Studebaker enthusiasts who
visit here."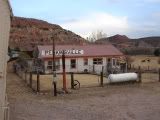 glen Brose
Perkinsville, AZ