Today the South side of Indianapolis had a parade called the "Miracle Mile". Bob Palma myself and others from the area can remember the allure of the "miracle mile", it was an area for the best of the best street machines from the Indianapolis area. People from around central Indiana came to Indy's south side to show off their car or show its' performance. This was done on the street(US 31) or in parking lots of the local restaurant, the Tee PEE, Steak and Shake or White Castle.
This area of Indianapolis was "American Graffetti" before the movie was even thought of! Years ago "officials" of Indianapolis decided they neeeded to clean up "the strip". "The strip" as it was knownwas patroled and people were cited for loitering or any violation that could be used and the cars left the area.
Well this weekend and the parade was to "revitalize" the area, because when the "cruising" left so did the business! No cars, business's closed, the area became vacant buildings. Today a parade of all types of cars as well as city/county officials and business's from the area brought thousands of people to view the classic and Hot rod cars on the "strip/miracle mile".
Two Studebakers participated in the parade and open car show. A 1950 Studebaker powered by a Buick V6 and our 1956 Golden Hawk known as "Ellenore". As we passed the announcer and dignatary review stand I listened as Ellenore was explained..."many people would never have the opportunity to see a Studebaker, here is a fine example of Indiana's auto heritage". What a great honor to represent Indiana's auto heritage.
We left the parade and drove a short distance to an "open car show", over one hundred and fifty cars participated. Antique fire trucks, a 1926 Chevy, custom... modified, all years corvettes and camaro's as well as trucks. At the end of the day Studebaker reined, the 1950 was voted a top twenty car. Ellenore was judged as "Best of Show". My wife and I are truely honored to have a great car to represent Studebaker and Indiana auto makers. Today we competed against the best cars Indianapolis had to offer, we are very proud of our car.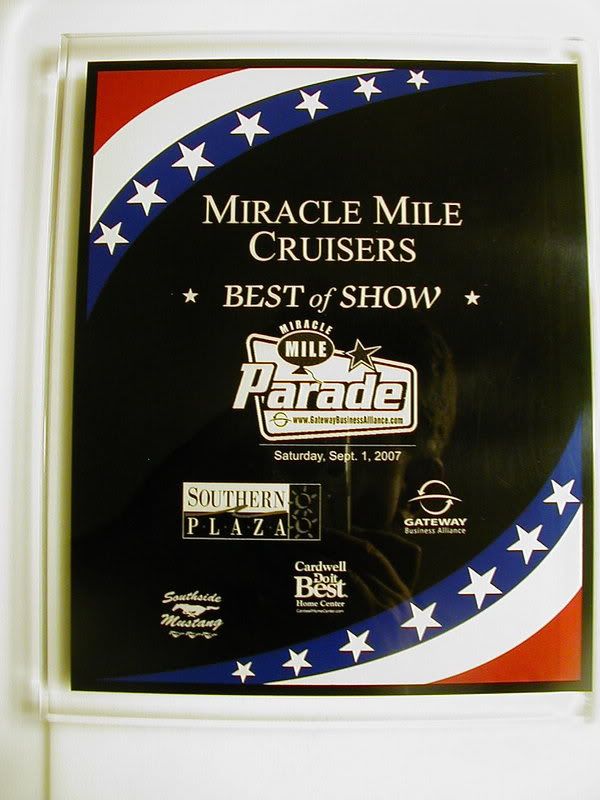 Bob, any memories of the Tee Pee???
OK I lied....I'll do it again for the "right" car, I love the chase.....