First off I saw this in a post over 5 years old, so the circumstances may have changed. If you so
. Second I know this can somtimes be a touchy subject, so please if I'm bringing up something you don't want to talk about, I'm sorry. I was browsing the forum the other day and noticed this thread
Where is your FIRST Studebaker?
This ought to be a fun survey.
Do you know the whereabouts of your
FIRST
Studebaker? Maybe you still own it...maybe you know for sure it was parted out
...or that it was ultimately restored by someone else
or????
?
OK, I'll start the sequence. My first Stude was a 1955 Champion Regal Coupe, purchased in 1963 at age 17. 'Sold it in 1972. It was almost used up by subsequent owners
but not quite
: It resides today, in poor condition, in a barn near Kirklin IN. I know the current owner, but have not seen the car in over 30 years.
Here it is in 1970 with future wife Cari on what was her first date to a Studebaker Club Meeting in Noblesville Indiana's Forest Park: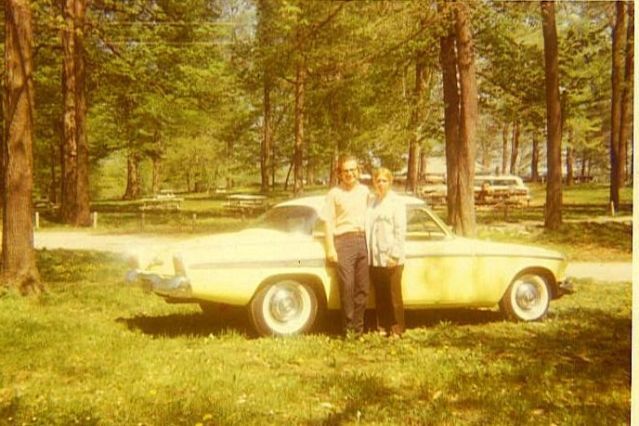 Anybody else? Braggin's OK for you folks who have carefully cared for your Stude for many years...or even just a few if you're a "newbie." I'll bet there's some good stories out there. (Everyone has permission to pop a cold one and pretend we're standing around in the Omaha parking lot at 11PM.)
BP
Last edited by BobPalma; 03-17-2013 at 06:26 PM. Reason: added photo since I figgered out how to do it!
So this begs the question if you still know where it is and you still know the owner, why isn't it back home with you? Where it belongs. is it just toofar gone? is the owner not willing to sell? For some reason would you not want it back? Since you (assuming its savable) have restored studes before, and I think have the funds to do so. Wouldn't your first stude be a good canidate? It looks geogous in that photo, and it would be awesome to see you retake that photo now. Int he post you say you haven't seen it in what would now be 36 years? if that's still the case if nothing else maybe it's time to see it again even if it didn't come home with you. Granted everthing I just typed might no longer be relevent, but if it is, how many people you age know where there first car is still, many of them would love even to see it again, even if its not savable, and if you still have that oportunity you shouldn't let it slip by you. I could have made this a giant PM but I'm curious what other people think on this matter too, Once again please don't get offended, these kind of stories have always intrigued me, and I'm curious to see what the full story is. I know sometimes stuff like this can be upsetting, and that's certainly not my goal, moreover just wantedto know what ever happened with you and this car. Danny. D